Eleven-year-old EJ is a sports fan who loves playing football and has been cheering on the Pittsburgh Steelers since before he can even remember.  He says watching the Steelers inspires him to get better at his own game.  His Dream was to go to Pittsburgh to see the Steelers play with his father and stepfather, but it didn't stop there.  EJ was also invited to watch the team practice and meet the players and coaches!
EJ's favorite moment of his Dream experience was during the practice, when he got to meet Ju-Ju Smith-Schuster, the Steelers' wide-receiver, which is the same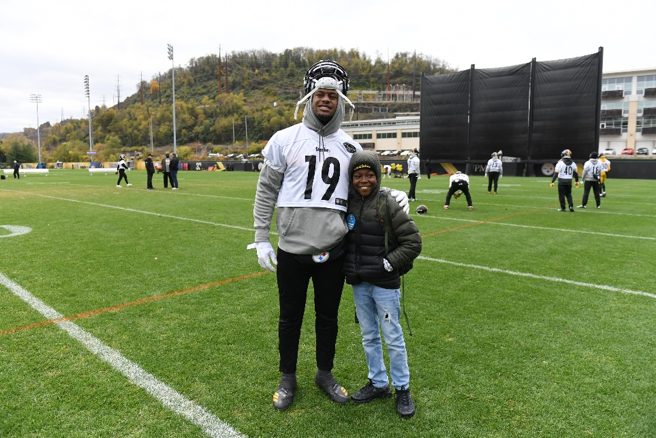 position EJ plays.  He also got to meet Mike Tomlin, the Steelers' coach and Hampton Roads native.  "This is a big moment for me," EJ said.  He added, "I liked the practice a lot because I got to meet my favorite players and got to get some cool stuff!" EJ was invited into the team's locker room by Ju-Ju, and in addition to being shown around, was given a signed pair of Ju-Ju's cleats, gloves, headphones, and more.
But EJ isn't the only one who walked away with a gift.  Because of his illness, EJ has been bullied; but instead of letting that get him down, EJ decided to something big.  This courageous young man created his own clothing line for bullying awareness – FATH (Forget About the Hate).  He gave both Ju-Ju Smith-Schuster and Mike Tomlin hats from his collection and when EJ arrived at the game on Sunday, Ju-Ju was wearing his FATH hat during pre-game warm-ups!  EJ said, "It was just amazing seeing that!"  EJ's stepfather said, "EJ didn't expect Ju-Ju to wear it to the game.  Everything he did for EJ, he did it because he wanted to."
Aside from the excitement during practice, EJ was also in attendance for an exciting game against the Indianapolis Colts, where the Steelers managed to clench the game at the last minute.  EJ's father said, "They won it for EJ!"
When asked what this Dream meant to him, EJ said, "It was amazing!  A dream that I have always had, came true."  His stepfather added, "This meant everything to us.  We all turned into kids.  It was more like we were all brothers, rather than dad, stepdad, and son."
Toby's Dream Foundation sincerely appreciates We Promise Foundation for our partnership in making  this once-in-a-lifetime opportunity happen for EJ.