Alonna, age 12, a self-proclaimed foodie and little ray of sunshine, knew exactly what her Dream was when we met her last spring. A 757 Restaurant Tour! 'I'm a big foodie – I love food!' she exclaimed.
We got right to work contacting local restaurants and planning some big foodie surprises for Alonna. With the help of Martha Davenport from the Virginia Beach Restaurant Association, we were able to pull together over a dozen donations from area restaurants. Then, our friends at Zoes Restaurant got involved and collected even more amazing fine dining experiences for this young foodie. Marc Sauter from Zoes said, 'It's a really cool Dream and close to our hearts, for sure.'
But that's not where Zoes stopped – they planned a 7-course meal for Alonna and her mother! They enjoyed octopus, wagyu beef steaks, scallops, coconut sorbet, a fish, and some fun non-alcoholic cocktails. Alonna said this has been the highlight of her experiences so far. 'Zoes was top notch!' she said. Her mother added, 'Everyone was so pleasant and so nice! They treated us like royalty. They were so attentive to Alonna – all eyes were on her! We sat at the chef's table and just really enjoyed ourselves.'
When we presented Alonna with her Dream experience, she was whisked away to a special lunch atop Virginia Beach's beautiful coastline at Orion's Roof. 'It was awesome,' Alonna said. 'We loved the pork buns – they just melted in our mouths! And the view was so pretty.' Before they even hit the interstate headed home, Alonna was fast asleep in the back seat after such a big day!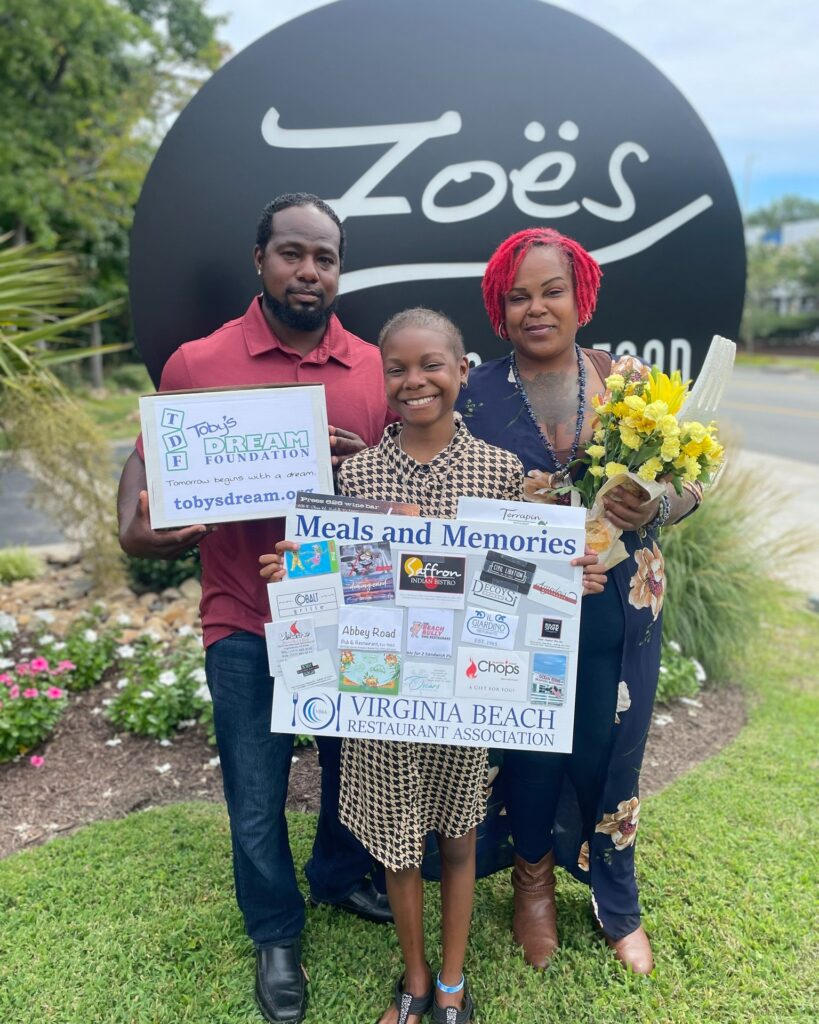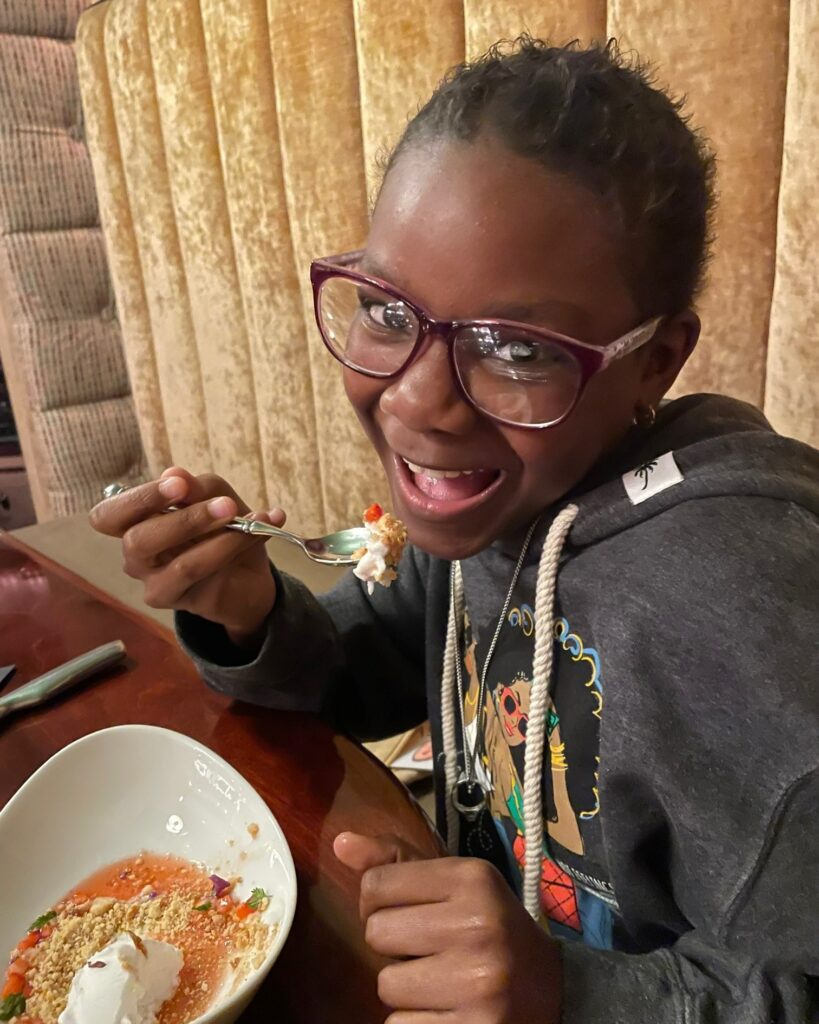 Alonna has been busy checking off her list of places to eat as she navigates her way through the Hampton Roads food scene. Her first stop was Sushi King, her favorite. And she finally got to try Sweet Frog. She enjoyed BBQ at Beach Bully and is looking forward to more dining experiences at Press 626, Vintage Tavern, and more.
'Receiving this Dream meant so much,' her mother said. 'Knowing that she loves food and being able to give her so many options – it really makes me happy for her to have these experiences. I just appreciate you guys and this gift of seeing her face light up after going through so much – it feels great for her to get to experience that and not worry about cancer.' Alonna chimed in, 'It meant a lot to me – a Dream come true.' Laughing, she added, 'I just can't put it into words – it was just awesome! I'm a Toby's Kid!'
The best news yet, however, is that Alonna is cancer free! 'Everything is looking so good – she is doing great and even going back to school,' her mother said.
We are so glad Alonna is able to experience her unique and delicious Dream. We couldn't have made this happen without Marc Sauter from Zoes and the support of the Virginia Beach Restaurant Association. Additionally, we are thankful for Chartway Credit Union and #chartwaypromisefoundation for helping to fund parts of this Dream for Alonna.