The Royal Treatment for a True Little Princess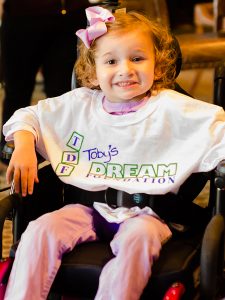 Once upon a time in Chesapeake, Virginia, there lived a very determined 3-year-old girl named Aubree, who knew in her heart that she was destined to be a princess!
Even though cancer had taken away Aubree's ability to walk, it could not take away her spirit and determination to someday meet her favorite princesses, Cinderella and Sophia.
Toby's Dream Foundation (TDF) heard of this noble little girl's dream, so they went to work to make sure she received the royal treatment she deserves! The volunteers who interviewed Aubree knew immediately that she was indeed a princess in search of meeting other princesses, just like herself.
Aubree and her family were whisked away in a magnificent limo carriage, which Princess Aubree and her older brother, Prince Halen, liked to call "the long car." Aubree and her family stayed at Give Kids the World Village (GKTW) where the cafe serves free ice cream day and night. In addition to meeting the princesses, Aubree enjoyed all that Disney World had to offer, and even visited Universal Studios and Sea World as well.
Aubree's whole family enjoyed the royal treatment by being escorted to the front of the lines at all of the theme parks, and the fearless little princess would sometimes ride roller coasters six times in a row! The best part of Aubree's visit was when she got to meet Princess Sophia while wearing her matching Sophia dress. According to her mother, Nicole, it was the highlight of young Aubree's life!
Nicole most enjoyed being able to see how excited her daughter Aubree was to finally be the princess she always knew she was: "For a week she was constantly smiling and laughing. A lot of times she struggles and gets discouraged or frustrated with her situation, and for once none of that was a concern at all; she had the time of her life!"
When the trip was over, Aubree and her family returned to Virginia with tons of Disney souvenirs and autographs, but most treasured of all was their unforgettable experience of a lifetime as Disney royalty. The smile that was constantly fixed on Aubree's face during her Disney trip hasn't gone away! She now believes, as we all do, that she is a royal princess, just like Sophia and Cinderella.
Toby's Dream Foundation is grateful for the generous support of We Promise Foundation and our community partners.
For Aubree… Tomorrow begins with a dream…