Brian Dreams of Dallas 
On Thanksgiving Day, one of our Dreamers, Brian, age 17, parked in the VIP Parking deck of the AT&T Stadium to attend his dream of a life-time football game. It was the Dallas Cowboys versus the Washington Redskins and Brian, a die-hard Cowboys fan, was ready to watch them crush the Redskins!
On their way into the stadium, they were stopped by another mega Dallas fan who invited Brian to start his 2019 custom made Dallas Cowboys Lamborghini! During the game, Brian and his family enjoyed sideline passes which his mom noted, "were a wonderful experience for that perspective of the game! Great seats!"
Brian's day at the stadium was complete with a full VIP tour of the AT&T Stadium. Highlights of the tour included seeing the football player's and cheerleader's locker rooms, Jerry Jones', owner of the National Football League's Dallas Cowboys since 1989, private viewing room, and private suites that are for lease in 10-year allotments! Brian's mom, when writing about their VIP tour experience wrote, "The stadium tour was so much more than we expected!"
For the rest of their visit to Dallas they filled their time with a stop at the Dallas Zoo, where Brian got to pet giraffes and see many other exotic animals up close. They also squeezed in a stop at 6 Flags to ride some roller coasters and a stop at the Ft. Worth Stockyards, where Brian rode a bull!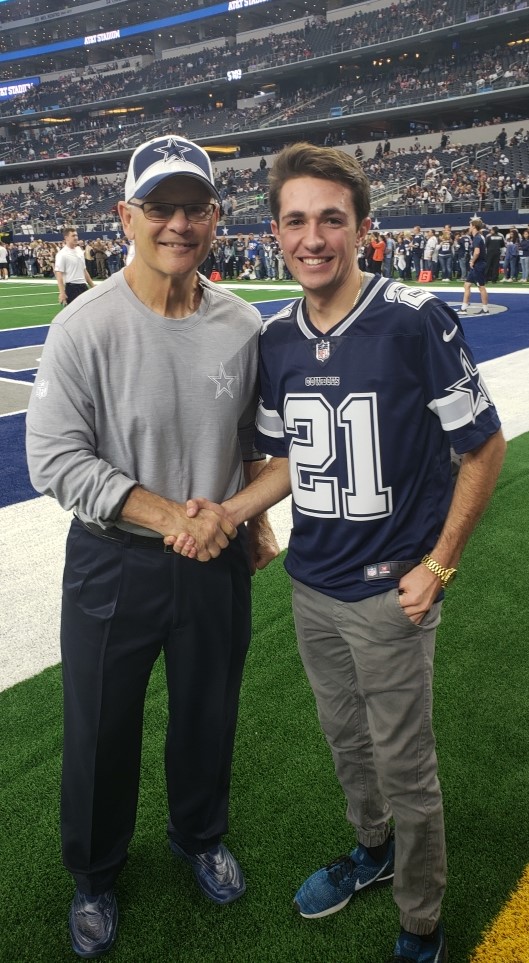 Brian Shaking Dallas Cowboy's defensive coach Rod Marinelli's hand.
Summarizing Brian's Dream experience, Brian's mom wrote:
"The entire trip was truly a 'DREAM COME TRUE' for my dear son! I thank you from the bottom of my heart for following through on this magical experience for him. He will remember it forever. Even watching the game on our television, since we have been back, he has a better appreciation and perspective because he has been where they are, he has stood at the interview podium, been in their locker room and under the seats in the tunnels! Thank you! Thank you! Thank you!"
Toby's Dream Foundation would like to thank our partner We Promise Foundation for helping us make Brian's Dream possible!