Carsyn Gets a Henry
Carsyn, age 9, quite like the spelling of his name, is unique. How, you might ask? Well, in order to explain it properly, we will start at the beginning. When referred to Toby's Dream Foundation, the nurse at Portsmouth Naval Medical Center informed us that Carsyn is a very special young man. She even suggested that he might want something unusual so our Executive Director, Joan Steele, interviewed Carsyn personally and came back to report that Carsyn was indeed unlike any other 9-year-old she had ever met. Carsyn's most fantastic Dream was to own…wait for it… a vacuum! Surprised at Carsyn's answer, Joan asked, "Like a vacuum cleaner?" Carsyn replied, "Yes, I want a Henry!". Carsyn then proceeded to educate our TDF team about the Henry vacuum as well as the other members of the Henry family of vacuums.
After hearing this unusual request, Carsyn shared a website where Toby's Dream Foundation could make the purchase and what we found was a little red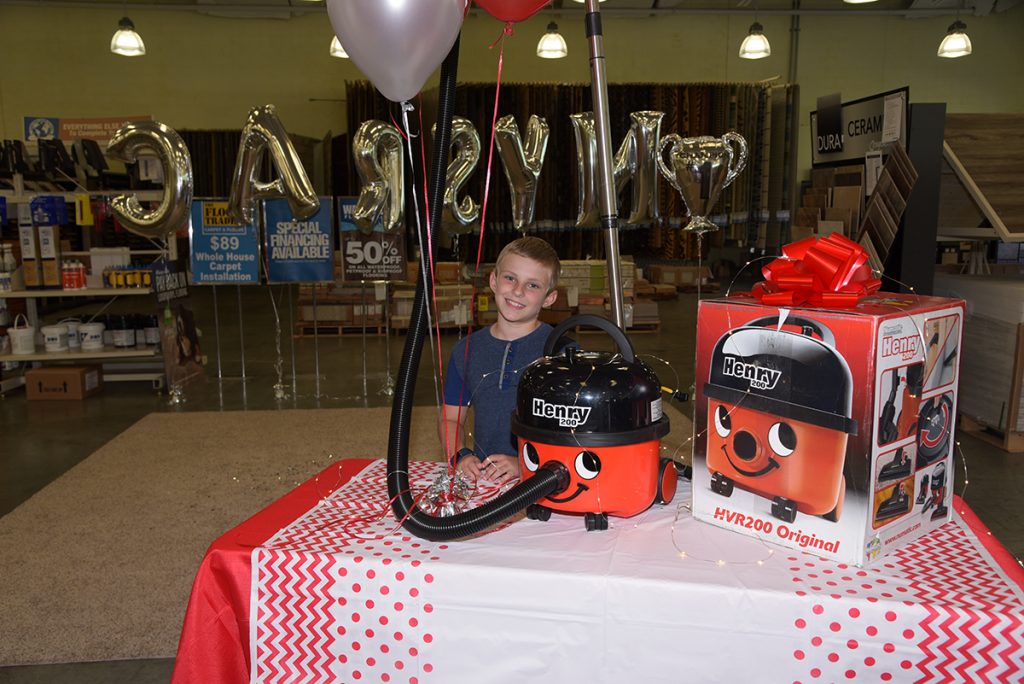 vacuum, with an adorable face on it, from the brand Numatic International Ltd. that is made in the United Kingdom. Joan and our Program Manager, Sarah Haggerty, went to work planning Carsyn's Dream, which included a "Henry", an epic reveal party at The Floor Trader in Chesapeake, and a few surprises as well! After ordering the "Henry", Sarah H. reached out to the Numatic distributor in Canada and shared Carsyn's story with them! In no time, they sent a large box of Henry Vacuum goodies including a "Henry" hat, socks, beach towels, a collectable toy, as well as a "Henry" tote, pen, keychain, and a box of thank you cards depicting Henry the Vacuum and his pals! That's not all! This distributor reached out to the Numatic manufacturer in the United Kingdom and shared with them how important the "Henry" is to Carsyn. They took it upon themselves to create a one-of-a-kind "Carsyn" vacuum along with a comic strip poster titled, "The Adventures of Henry and Carsyn". We couldn't wait to surprise Carsyn with not one, but two vacuums!
Reveal day finally came after months of coordinating! The Toby's Dream Foundation team gathered all of Carsyn's goodies and headed to The Floor Traders in Chesapeake. His goodies included, large balloons that spelled CARSYN, and lots of other balloons. One of our favorite bakers, Kadi Spruill from Kadi Bakes, created a life-size Henry Vacuum Cake and the owner of The Floor Trader of Virginia, Sharon Smith, brought in a catering crew with delicious food and graciously donated a $500 gift certificate to Great Wolf Lodge. That's not all! Our good friend from We Promise Foundation, Executive Director Karen Lane, donated season passes to Busch Gardens for Carsyn and his family!
When Carsyn got out of his limo and followed the red carpet into the warehouse he was greeted by a cheering crowd! His eyes were fixated on the far table where he could see his dream come true. Everyone could tell he was super excited! He made a quick pit stop for a "thumbs up" picture at the life-size "Henry" cake and then made a b-line for his very own Henry!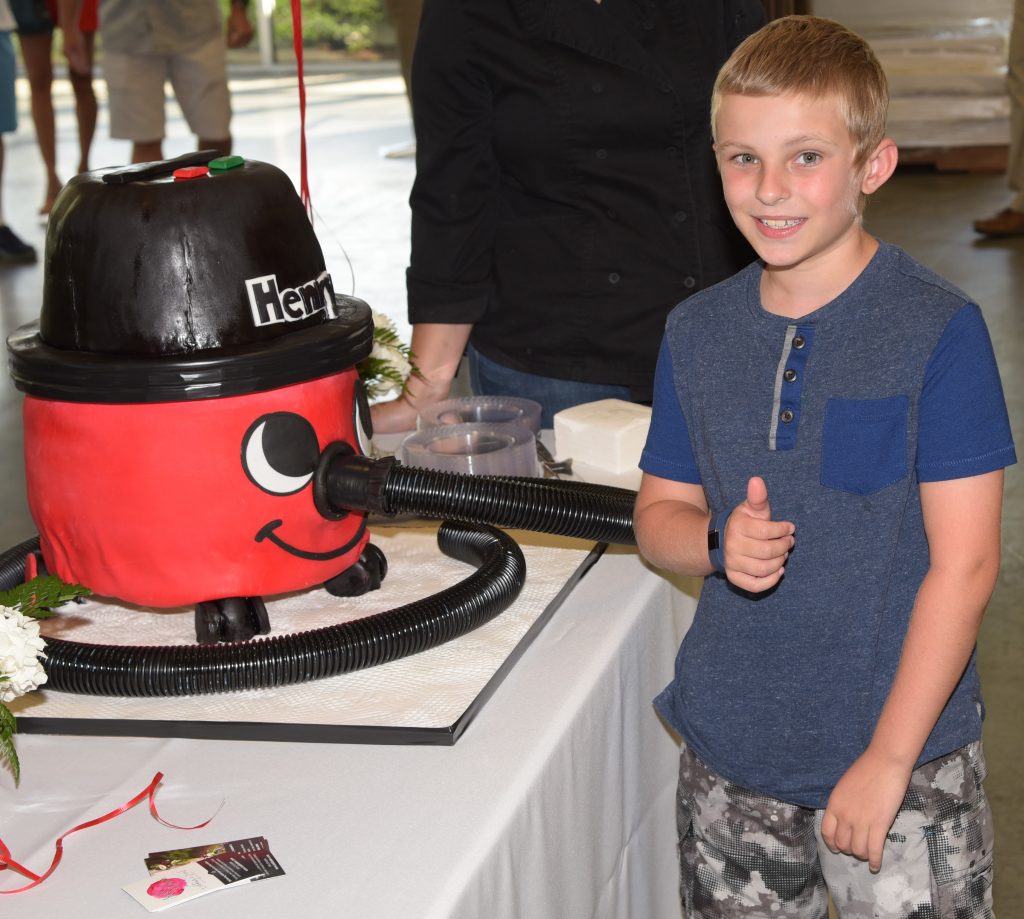 As if the reveal of the "Henry" could get any better, we wheeled out his Carsyn Vacuum and you could see the shock and awe on his face. He could not believe that "Henry" had a brother named after him. When he realized The Floor Trader had laid out a carpet for him to test out his new treasures; Carsyn immediately took the "Henry" and started vacuuming. After a couple of runs Carsyn said excitedly, "Now this is a workout!"
Carsyn immediately knew all of the different parts and functions of his new "Henry". When asked why did he choose to receive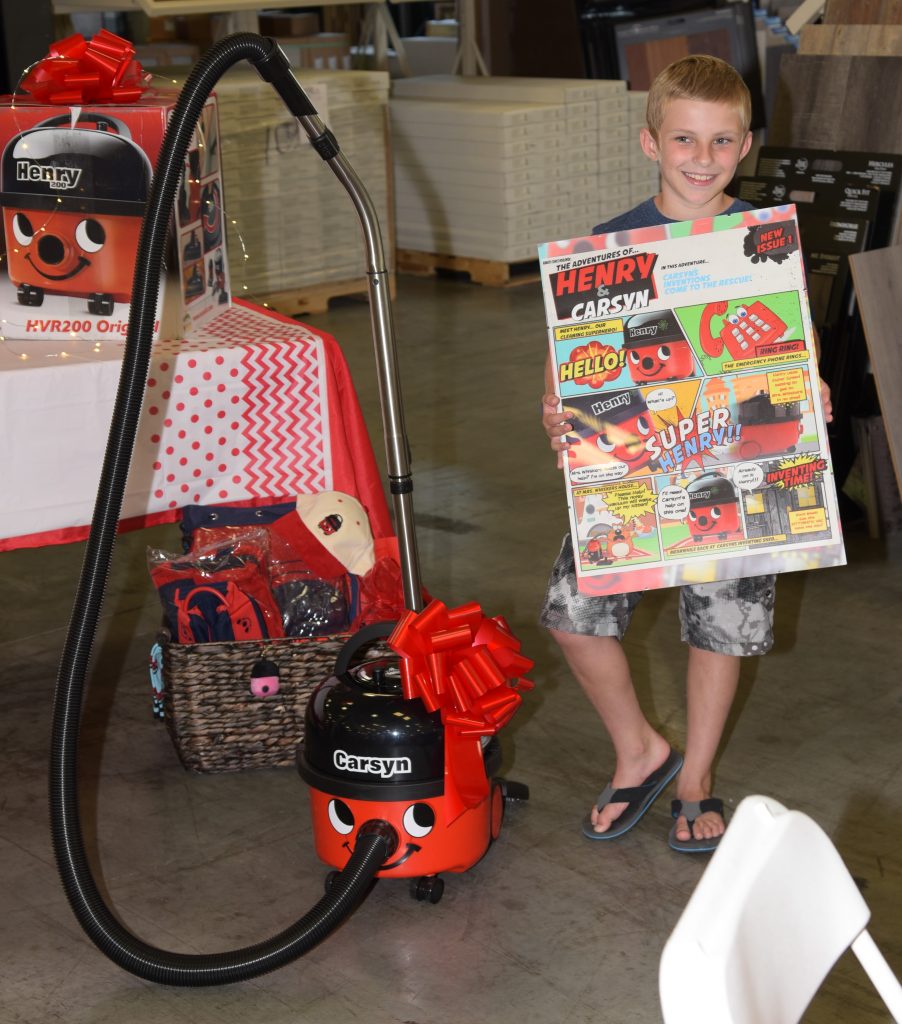 a vacuum for his dream? This answer was simple, Carsyn explained that vacuums have always seemed really cool to him and he's collected them since he was 4 or 5 years old! He also explained that he has no clue why he loves vacuums so much! He just knows he loves to vacuum. We also asked him why he chose a Henry Vacuum as opposed to an Oreck? The answer was pretty obvious, Carsyn laughed and said, "Because I already own an Oreck!" When it all came down to his favorite part of his reveal party, Carsyn exclaimed, "Getting a Henry AND a Carsyn vacuum!" To Carsyn, it was so special to receive a one-of-a-kind Carsyn Vacuum, "It's just exciting that there is a vacuum with my name on it, named after me! That I can have one of my own!"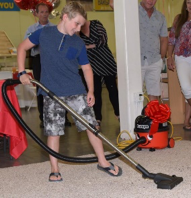 Carsyn's Dream is a wonderful example of how a community came together to make a simple and unique Dream come to life! Toby's Dream Foundation would like thank Sharon Smith and her crew at The Floor Trader for putting together a wonderful reveal party for Carsyn, along with Kadi Spruill, from Kadi Bakes and Karen Lane at We Promise Foundation. We truly hope Carsyn thinks of his amazing day every time he turns on his Henry and Carsyn Vacuums!