Garyon, age 11, loves sports, Legos, and hopes to one day become a scientist.  When asked what his most fantastic Dream was, he told us that he would love to go on a shopping spree since he had never had the opportunity to do that before.  With his sights set on Best Buy and Lynnhaven Mall, Garyon and his grandparents were picked up by their driver and ready to head out for his day of fun.
During his ride, Garyon and his driver got to talking.  It turns out that his driver beat pediatric cancer, too.  It was an auspicious start to the day already!
The first stop was Best Buy where Garyon picked out a brand-new X-Box and some basketball games to go with it.  He also selected a set of Legos and controllers for his new gaming station.  
The highlight for Garyon, however, was when he arrived at Lynnhaven Mall.  "I got to roll down the red carpet!" he exclaimed.  Our sincerest thanks to Lynnhaven Mall for making this young man feel like the king that he is!  At the mall, Garyon bought a few new shirts, two pairs of sneakers, and an Alan Iverson jersey.  When asked what his favorite find was, he said it was a tie between the jersey and the X-Box.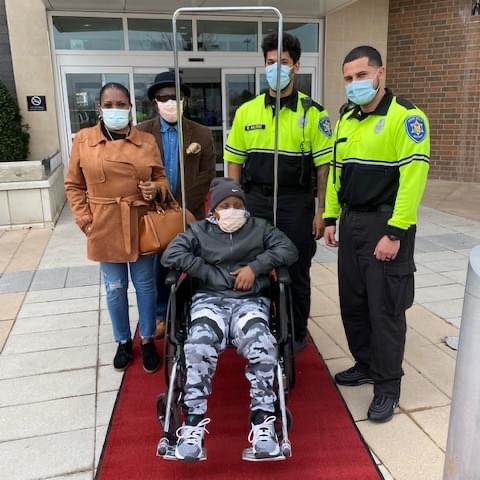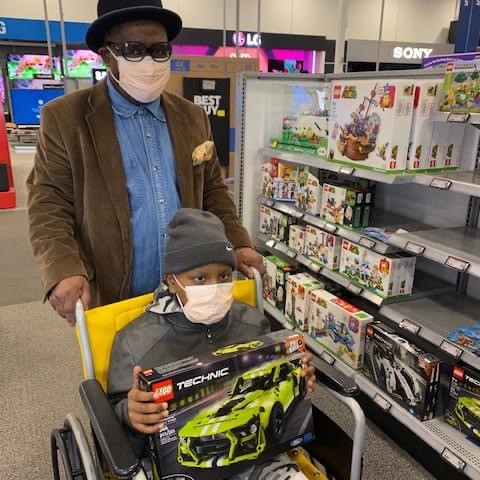 The day had another fortuitous moment when Garyon found himself face-to-face with another Toby's Dream Kid.  His grandmother explained, "When at the shoe store, we encountered a young fellow who was about 20.  He waited on us and asked if we were from Toby's Dream.  We said yes – and he responded, 'When I was diagnosed with cancer at age 8, I was a Toby's Dream Kid, too'.  He had such a good attitude and was so supportive.  He told Garyon to keep his head up and he just had the best, positive attitude. We were very touched by that.'
Garyon told us that receiving this Dream meant a lot to him.  His grandmother added, "It was beautiful, spiritual, touching, heartfelt – oh, it was everything!  I cried – because you know, I never thought we would be in this position in our life.  But it happened and goodness has come in so many ways.  We were so touched by this.  We will never forget y'all or this day."  She went on to say, "We are going to continue to stay on this journey and hope and pray that everything at the end of the tunnel is light for us."
We hope that good things continue to come Garyon's way and that his journey stays bright.  We are so glad Garyon got to have this special day with his grandparents. We are thankful for our partnership with Chartway Promise Foundation for helping to make this Dream come true for Garyon.