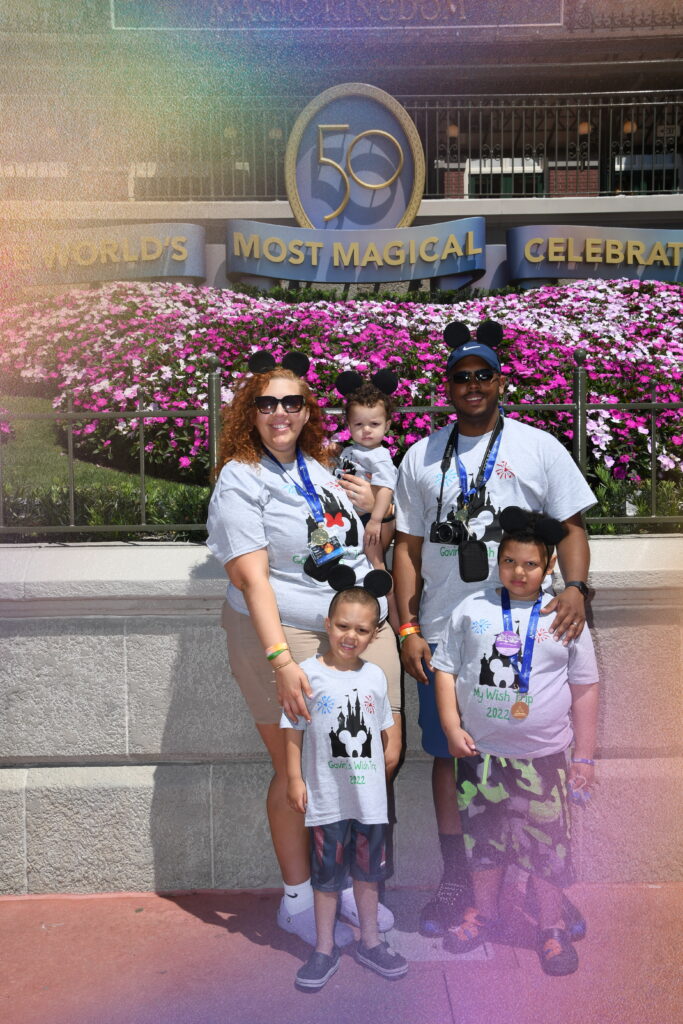 Gavin, 5, is an outgoing little boy who was so excited to go to Disney for his Dream. His parents drove through the night so that when Gavin awoke the next morning, they'd be arriving at Give Kids the World Village, ready for their week of fun.
Gavin and his family checked in and were in the pool by lunchtime! 'The pool was awesome,' exclaimed Gavin. Before long, Gavin and his family realized how special the Village was and couldn't wait to see all that they had to offer. In fact, it ended up being the highlight of their trip! 'We loved GKTW!' his mother said. 'Everyone there was SO nice — every time you turned around, there was a volunteer smiling and ready to help.' She added, 'The Village has so much for you to do that there is no time to be bored. We met Mickey, Gru, and the Mayor; went trick-or-treating; met Santa; the private rides and train room were great!'
However, the literal icing on the cake was the amazing food they had. 'They had the BEST waffles we've had in our life!' Gavin's mother said. She also raved about the after-dinner cake cart and the cookie cart that travels around the Village handing out freshly baked sugar cookies, snickerdoodle, and chocolate chip cookies. Gavin's favorite treats were the slushies at the pool snack bar, which he was getting all on his own by the trip's end!
Gavin, of course, got to place his star in the Castle of Miracles; however, in a touching twist of fate, they presented his brother, Bryson, with a star for him to place, too, for Bryson was recently diagnosed with cancer, as well. The Village was so inspiring to Gavin and his family that for Gavin's upcoming birthday, they plan to do a fundraiser for GKTW in lieu of gifts. 'As a way to say a big thank you,' his mother said.
Gavin and his family also enjoyed their time at the best theme parks in Orlando and took advantage of all there was to do. 'We rode every ride we wanted to — and didn't have to wait in any of the lines. We were like royalty!' his mother said. Gavin said his most favorite ride was the Kali River Rapids at Animal Kingdom. 'We went through logs and then we went waaaaay down and got soaking wet!' Gavin exclaimed. He also loved the whimsy and sugary treats at Suess Landing.
One of the highlights for his mother was when they discovered it was too crowded to see the parade at Magic Kingdom. Right when they were starting to feel discouraged, a staff member spotted that Gavin was from Toby's Dream and immediately escorted them to the VIP seating area for front row views of the parade and fireworks, and were even treated to ice cream!
'This trip was a breath of fresh air,' his mother said. 'We have been nonstop on the go since Gavin's diagnosis in October and then Bryson's in January. We could never thank you guys enough. Our trip was everything we needed!'
We are so happy that Gavin and his family were able to escape and make these memories together during such a difficult time. We are grateful for our partnership with Chartway Promise Foundation in helping to make this Dream come true for Gavin and his family.