Jaedon,  age 18, is a hip young man who knows what he wants!  When asked what his most fantastic dream was, he replied that he wanted to be able to make beats with a MacBook Pro and various audio tools that would help him to make music the way he wants.
With Jaedon living in North Carolina, we tried our hardest to coordinate with Jaedon and meet him during one of his visits to CHKD so he didn't have too wait long to receive his Dream.  Working our TDF magic, we were able to pull his items together in just 24 hours — and deliver everything straight to CHKD, complete with his favorite Popeye's Chicken, Insomnia Cookies, and balloons, to boot!
With enthusiastic support, Guitar Center was able to put together quite a package for Jaedon to go along with his new MacBook Pro, including: ProTools, a digital audio workstation for music creation and production; Studio Monitors for top quality sound; an audio interface; a microphone and stand for recording; and headphones.
Jaedon said that it meant a lot to receive this Dream and is happy to be able to do something that he loves to do.  His mother said, "I am just so happy Jae gets to make music and beats the way he likes to without any restrictions.  And that it gives him something to look forward to doing when he feels up to it."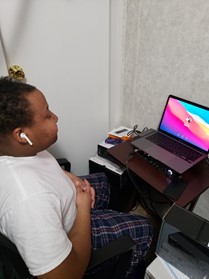 We are thrilled that Jaedon has the tools to create the music he loves to make!  Thank you to We Promise Foundation for partnering with us to help make this Dream come true for Jaedon.