James Meets his Baseball Idol!
James, age 10, was diagnosed with cancer at a very young age. After many treatments of chemotherapy, radiation and steroids, James was left with fragile bones and joints, which prevent him from playing contact sports. He tried to continue playing his favorite sport, baseball, but fractures and joint replacements confirmed that he could only experience his favorite game from afar, and not participate.
Because James has a life-threatening illness, he was eligible for a referral to Toby's Dream Foundation (TDF). At TDF, we interview our kids to find out what their most fantastic dream would be, and James' dream was unique: he wanted to meet his baseball idol, Matt Holiday of the St. Louis Cardinals.
James' grandparents live in St. Louis and he has grown up loving the St. Louis Cardinals since before he can remember. He has attended several Cardinals games while visiting his grandparents, but that was as far as he could get to meet his favorite player, Matt Holiday. When James was offered this chance of a lifetime, he was certain of his choice to attend another St Louis Cardinal's game to actually meet Matt Holiday.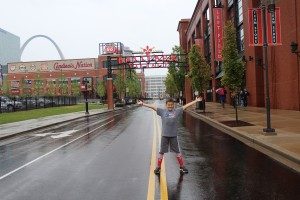 One of TDF's board members had a connection that lead to the Vice President of the Cardinals, who arranged for James and his family to have VIP seats at the exciting St. Louis Cardinals VS Boston Red Sox game. It was at this game that James finally met his favorite player, Matt Holiday… a dream come true.
In addition to meeting Matt Holiday, James was able to venture into the dugout, tour the press box and enjoy many other things with the players.
Recently, James has taken up another sport, golf. He is a fairly new golfer, but we have high expectations to see him on the PGA TOUR one day. His determination and drive to beat his cancer will help him in his quest to master golf.
Toby's Dream Foundation is grateful to We Promise Foundation for their partnership in making James' dream come true.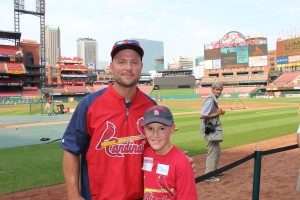 For James… Tomorrow begins with a dream!