Jessica, an American Girl!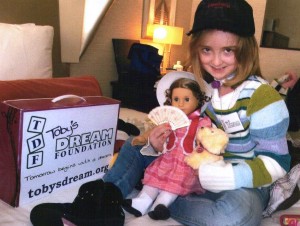 Jessica, a bubbly 8-year-old girl, did not have an American Girl doll like most of her friends, so when asked what she her dream would be, she immediately asked for a visit to the American Girl Place to purchase her first doll.
Toby's Dream sent Jessica and her grandmother to Chicago to visit the original and largest American Girl Place in the world! Jessica spent a lot of time at the store as she examined each doll in trying to decide which one she wanted. Once she decided on a doll named Marie Grace, Jessica and her grandmother enjoyed a four course dinner at the American Girl Café along with Marie Grace, Jessica's new best friend. Jessica and Marie Grace also attended a "Carolina's Celebration", a special tea for girls and their dolls. Having a generous gift certificate provided by Toby's Dream enabled Jessica the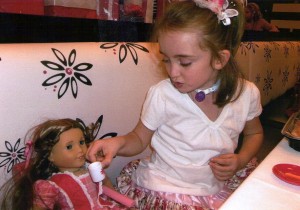 opportunity to not only purchase her doll, but also additional outfits for the doll.
In addition to everything American Girl, Jessica also visited excursions to the Children' s Museum at the Navy Pier and the Hershey Store….truly a dream come true for ALL children!
The Mile North Hotel staff exemplified the word hospitality. They had several gifts waiting for Jessica upon her arrival which included an American Girl bed as well as breakfast in bed for Jessica and Marie Grace. Thank you to the staff of Mile North Hotel in Chicago for making Jessica's stay over the top!
A note from Jessica's grandmother upon their return stated:
"You put a beautiful smile on Jessica's face. You made Jessica feel special throughout the whole dream. Thank You."
Our pleasure is being able to put that smile on Jessica's sweet face. We are hopeful that she and Marie Grace will share many happy tea parties together.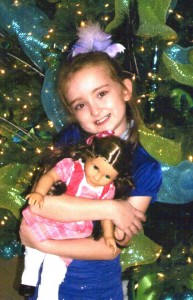 For Jessica… Tomorrow begins with a dream!