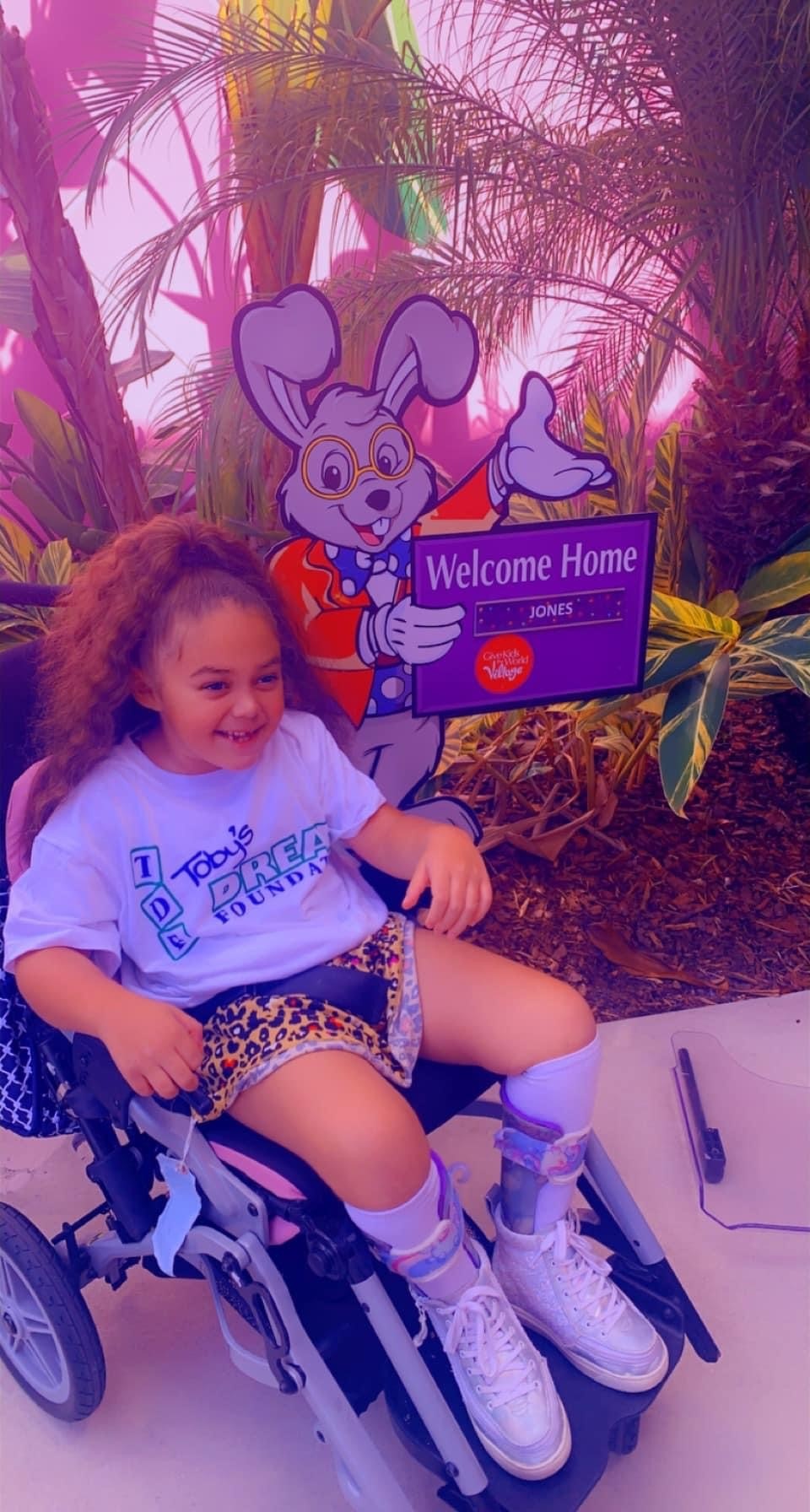 Juliana, 6, is a true princess! She's a girly girl who loves Disney princesses, Poppy from Trolls, and Peppa Pig. It was Juliana's Dream to go to Disney and be a part of the magical world in which all of her favorite characters live.
Juliana and her family arrived at GKTW and immediately loved their apartment-style accommodations and the feel of the Village. Juliana's parents treat every day like it's her birthday and always have a gift for her every day, so when Juliana's mother found out that a Gift Fairy would be visiting her every day, she said it felt just like home! Juliana also loved getting to see Santa and Mrs. Claus during her week of holiday celebrations. But her favorite part of the Village, by far, was the all you can eat ice cream!
Juliana's mother's favorite part of their time at the Village was visiting the Castle of Miracles, where she found the star of one of our Dreamers, Maddie. Juliana's mother and Maddie's mother are friends — Juliana's mother said it made Maddie's mother's day when she heard she had found her sweet girl's star at the Castle, which coincidentally, was on the same panel that Juliana's star was planted.
While in Orlando, Juliana and her family visited Magic Kingdom and Universal Studios. Much to their surprise and delight, Juliana's parents discovered that she absolutely LOVES roller coasters! This was great news since the rest of Juliana's family are thrill seekers, too. Juliana loved the Seven Dwarfs Mine Train at Magic Kingdom and Escape from Gringotts at Universal. Juliana was also able to meet her favorite character — Poppy! 'Meeting Poppy was probably her top favorite thing that we did,' said her mother.
Being that their trip was over Halloween, Juliana and her family were able to attend the Boo Bash at Cinderella's Castle. Juliana was dressed to the nines in her Cinderella costume, which cleverly incorporated her wheelchair as Cinderella's carriage. Juliana's mother said, 'The entire time she was there dressed as Cinderella, everybody bowed to her. And I mean everybody! From the ride attendants to the people cleaning the park — everyone bowed!' And in a moment of serendipity, when they wheeled her down to the front of the parade line, they realized they were standing right next to the Fairy Godmother! 'Juliana absolutely loved it!'
her mother said.
When thinking about their experience and what it meant to them as a family, Juliana's mother said, 'This meant everything to us. We got to go away as a family and didn't have to worry about doctor's appointments or going to therapies — we could just enjoy each other and create wonderful memories. We had an absolute blast! Thank you.'
We are so glad that Princess Juliana enjoyed her Dream trip to Disney. We are thankful for our partnership with We Promise Foundation for helping to make this Dream come true for her.