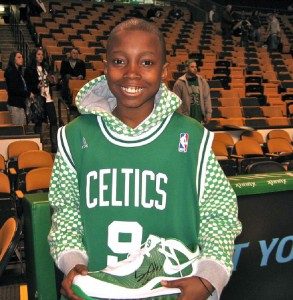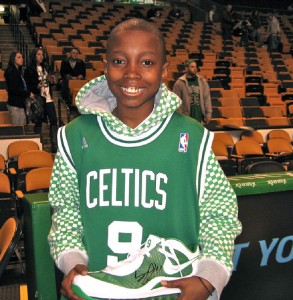 Boston Basketball is for Believing!
With a passion for the Boston Celtics and his all-time-favorite player, Rajon Rondo, our 15-year-old dreamer Kahji dreamed of going to a Celtics' game and meeting his idol Rondo. Our dream organization knew this dream posed a tough challenge, but we understood how important it was to make a real "dream come true" for such a special young man like Kahji.
With the help of Terry Kelley from The Meridian Group, our dream organization whisked Kahji away to Boston for the last game of the season between the Celtics and the New York Knicks — talk about a real rivalry game! When the game reservations were made for Kahji, TDF was unsure of whether or not Kahji's full dream would be realized due to the uncertainties and fluctuations of celebrity-athletes' schedules. But, with great faith and resolve, TDF knew there was magic in the air in Boston, so off we sent a courageous Kahji in hopes that this special dream would have the ending he deserved. Once Kahji, his friend Lamar, and his great aunt Amy, arrived in Boston, they met a TDF volunteer living in the area who accompanied them to the game.
And oh what a game it was at The Garden! The Celtics crew was wonderful and made sure Kahji had the time of his life. And most importantly, they helped Kahji experience his entire dream! Before the game started, Kahji got to meet his idol Rondo, plus he got to walk out of the locker room with a pair of Rondo-autographed shoes. To make the experience even more spectacular, Kahji stood at center court where he "high fived" each player as they stepped onto the court for warm ups.
Security was very tight and even though they kept a watchful eye on everything going on as the team came onto the court, Celtics Captain Paul Pierce approached Kahji and motioned for him to take a shot at the basket with the team warming up around him. What a thrill for an overwhelmingly excited and deserving young man like Kahji! While Kahji just barely missed the basket, Celtics player Ray Allen wanted to make sure it was a real slam dunk. He picked up Kahji and brought him closer to the basket so he could make the shot. Talk about a team player!
With a lifelong wish fulfilled and a pair of autographed sneakers by his side, the Celtics' game will surely be an experience Kahji will cherish for a lifetime. Even better, with such great inspiration like Kahji in attendance, the Celtics won the game! Our dream organization extends an extra special thanks to all those involved in making this extraordinary dream a reality for an even more extraordinary dreamer.
For Kahji… Tomorrow begins with a dream!