A Fabulous Fashion Dream Come True
Michael Kors, Elie Tahari and more!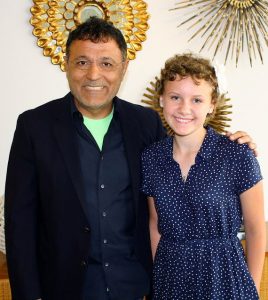 When Toby's Dream Foundation (TDF) volunteers interviewed 14-year-old Keilah, they were impressed by her dream to tour the fashion industry in New York City. She bravely showed the volunteers a few sketches she had created—evidence of her passion for design. This was TDF's first request like this, and although it was a challenge, with the assistance of Chelsey Hall of Peerless Clothing International, we were able to make this dream for Keilah a spectacular reality!
To begin her fashion dream, a limousine picked up Keilah and her family to take them to the airport– an appropriate start for an aspiring fashion designer. Keilah's first stop in NYC was to meet famous designer Elie Tahari, who gave her a personal tour of his studio, where buyers were viewing Elie's clothing designs. Later that afternoon, Keilah and her family visited the Fashion Institute of Technology for a private tour of the runway collections at the museum.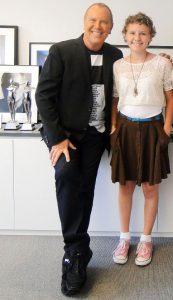 Keilah's second day in NYC was no less exciting than her first! She visited the studios of famous designers Calvin Klein, Izod and Tommy Hilfiger, where she got to brush shoulders with the head clothing and accessories designers of each. After a sneak peek of the making of celebrity gowns, Keilah received a special T-shirt that featured her own sketches printed on the shirt.
Celebrity fashion designer Michael Kors not only met Keilah, but graciously spent almost an hour talking with her about her dream of becoming a designer, and gave her advice from his personal experiences about pursuing her dream career. Then, Mr. Kors surprised her with a genuine Michael Kors bag, which he had autographed for her. Keilah also met star designer Nanette Lepore, who surprised her with a peacock bag and a Mondo dress inside that was just Keilah's size– a thrill for the 14-year-old fashionista.
Ronny Wurtzburger, President of Peerless Clothing International, the leading producer of fine tailored clothing in North America, (including such labels as DKNY, Ralph Lauren, Joseph Abboud and more), met Keilah and generously gave her tickets to a Broadway show in NYC and an iPad with all the episodes from style.com pre-loaded on it.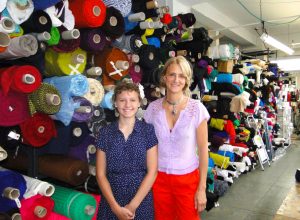 To round out her trip, Keilah felt like a true famous fashion designer as she interviewed with Women's Wear Daily and told them about her fashion dreams. The final "icing on the cake" was a live viewing of Keilah's favorite show, Project Runway, where she met renowned designer Isaac Mizrahi! As if her experience couldn't get any better, Mr. Mizrahi's makeup artist gave Keilah a makeover and all of his studio designers signed her sketch book. A personalized gift bag for Keilah topped off her surreal dream of a lifetime!
We humbly thank all who participated in making Keilah's dream come true: Chelsey Hall, Ronny Wurtzburger, Michael Kors, Elie Tahari, Nanette Lapore, Isaac Mizrahi, and all the others who graciously met with Keilah. We also graciously thank We Promise Foundation for making this unique fashion dream possible.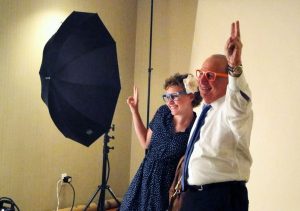 For Keilah… Tomorrow begins with a dream!