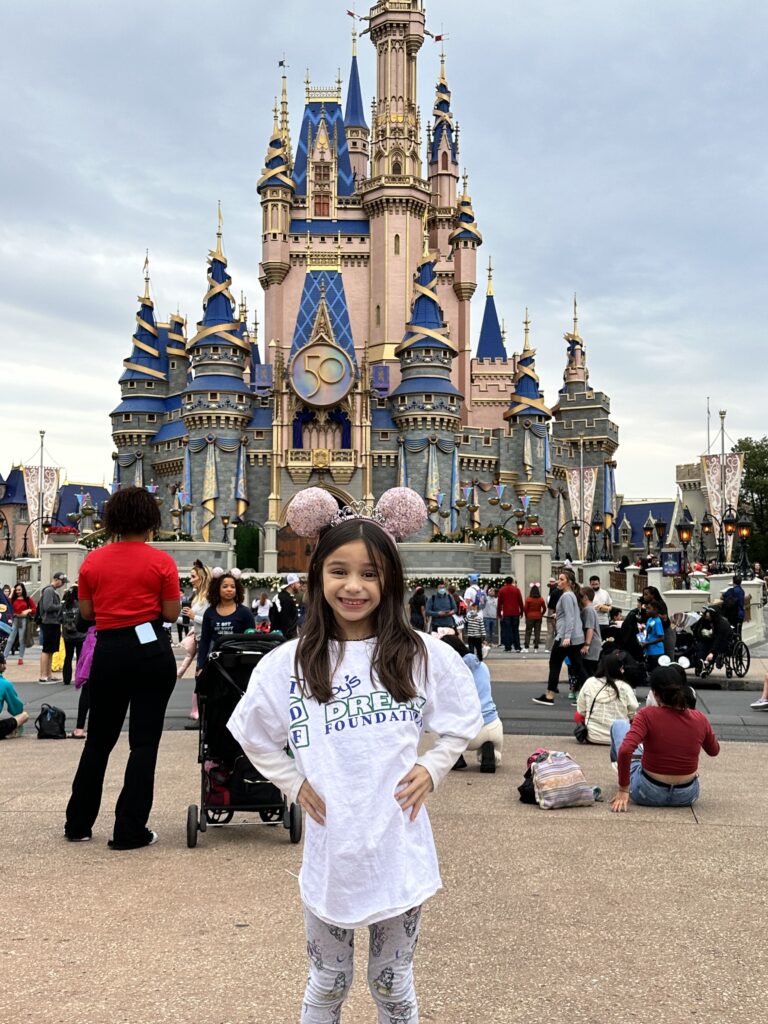 Leah, age 6, loves softball, soccer, and swimming. She chose to go to Disney World for her Dream because, "Who doesn't want to go to the Happiest Place on Earth?" said her mother. Leah was also excited to ride the rides and see all the characters that she loves so much – especially the cast of 'Frozen'.
When that dream came true and she was finally face to face with her beloved Elsa, Anna, Sven, and Olaf, her mother said, "Let me tell you – I've never seen a person so starstruck! She couldn't even speak."
In addition to the fun in Arendelle, Leah discovered a new favorite Toy Story Land! "She loved the characters and rides there," her mother said. She also told us that one of Leah's biggest highlights was riding the Teacups. "She wanted to keep going over and over again."
"The best part of this whole experience was not having to stand in line!" her mother told us. "Anytime we showed up, they would immediately stop and let us go ahead."
When talking about Give Kids the World, Leah's mother said, "I'm sad I'll never be able to go and stay there again! We were treated like royalty." She also told us that despite it being December, they all loved the pool. But nothing could top the experience of ice cream for breakfast for our little Dreamer!
As a parent, Leah's mother told us that she appreciated that the whole experience was well thought out. "There was never a moment where I was freaking out over logistics. It was all just there and so easy. And for the kids – it was very accommodating. From the prizes they would give every day to the passes we got and getting to have the full experience – it was really amazing."
When reflecting on their trip, Leah's mother said, "This experience was a time for my husband and I to close the chapter on this part of our life. It was also huge for Leah to get to be a kid and get to make up for those days, months, and years that she lost due to her illness."
We are so happy Leah got to get back some of the magic of being a kid at the Happiest Place on Earth – it was well deserved! We are thankful for our partnership with Chartway Promise Foundation in helping to fund this Dream for Leah and her family.