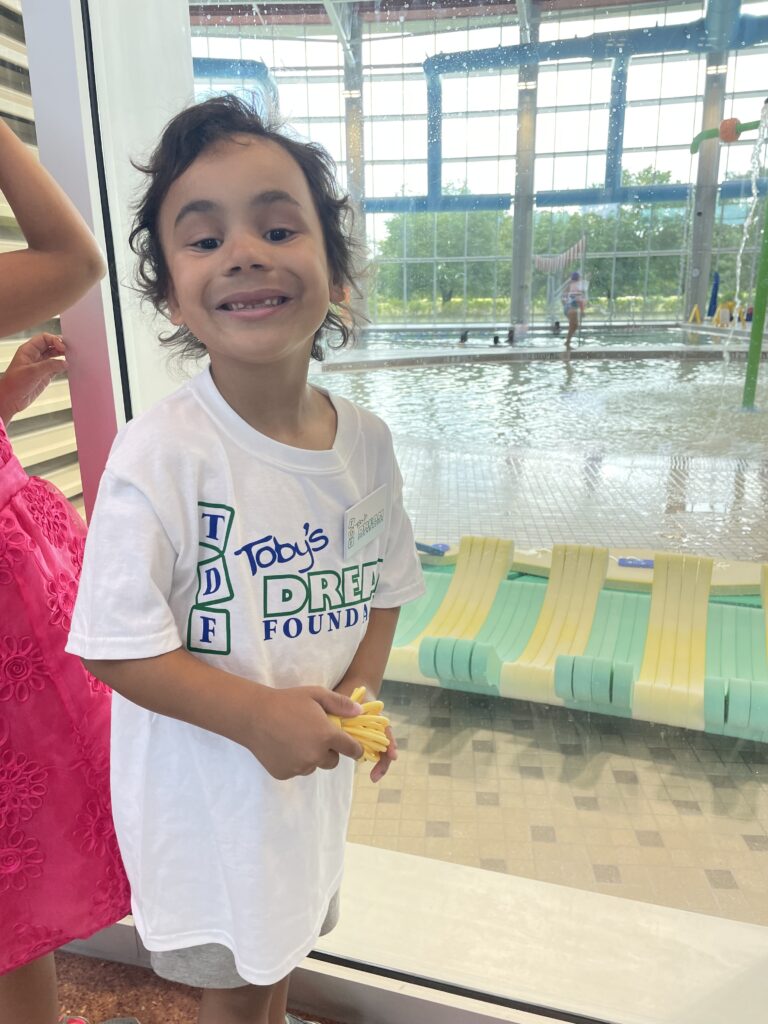 Michael, age 5, is a friendly little guy who loves dinosaurs and video games, but most of all, swimming. "Michael has been a water baby since birth! He has always loved bathes, sprinklers, water tables, pools, the beach – you name it," his mother said. She added, "When Michael was asked what his dream was, he knew he wanted to swim! And boy did our little fishy get his dream!" When it came time to decide what his Dream would be, we put our thinking caps on to figure out a Dream that would allow Michael to swim anytime he wanted. After a few brainstorming sessions, our Executive Director, Joan, came up with the idea of a five-year membership for Michael and his family to the local recreation center.
This ended up being the perfect Dream for Michael! His mother said, "Throughout his treatment we had to limit water options to the bathtub and a small inflatable pool out back. Sometimes it was due to sheer exhaustion or Michael's sensitivity to sunlight; other times it was due to his g-tube and our fear of introducing bacteria to the site from natural bodies of water. But now, we are able to safely enjoy the water, rain or shine! We don't have to worry about the sun, blistering heat, whackadilly Hampton Roads rainstorms, or the financial commitment of owning and maintaining our own pool. We get the freedom to go to any of the seven rec centers in Virginia Beach and splash/ laugh the day away! It is almost like the first time, every time we go — we have been there 5 times already in the last two weeks!"
We presented Michael with his Dream at the rec center over pizza and ice cream and gifted him with a basket full of all the pool supplies he could need — sunscreen, goggles (that cover the nose — a special request from Michael!), beach towels, and pool toys. While biting into his cheesy pizza, he exclaimed, "This is the best day!" His smile and energy was contagious.
When asked what this Dream meant to Michael and his family, his mother said, "We love seeing him explore and find something new with each visit. Watching him enjoy a normal childhood with his siblings is something we will cherish for our entire lifetime. We are so grateful for this dream and the entire team at Toby's Dream Foundation!"
We are thankful for our partnership with Chartway Promise Foundation in helping to make this Dream come true for Michael.