Tyler's, 16, Dream Knicks vs. Bulls Game in N.Y.C.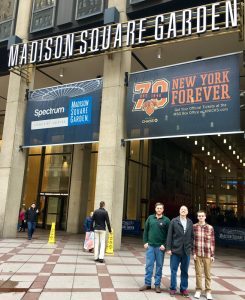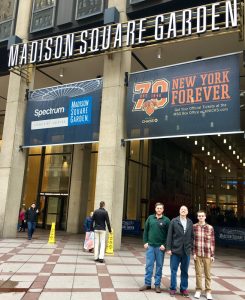 When it came to deciding, what Tyler wanted to do on his dream, there was a lot of thought that went into it. As a lover of sports, he finally settled on going to a Knicks Vs. Bulls basketball game in New York City! After all, his favorite team was the Chicago Bulls and his favorite basketball player was on the New York Knicks.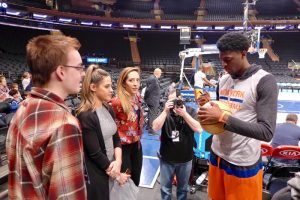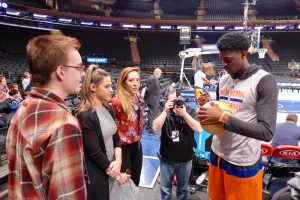 Once Tyler's family landed in New York City, they had a couple of days before the game to explore the city! Tyler's mom reminisced that they had all the "touristy" activities planned. They went to the American Museum of Natural History where they took in the sights of a mummy exhibit, then it was on to a double decker bus tour of the city, as well as a boat tour of Manhattan Island. Out of all the activities they got to experience in New York City, Tyler's mother said her favorite part was that they could experience everything together as a family.
When it came time for the game Tyler was so excited, he knew that they had special activities planned for him before the game, but he wasn't expecting everything he got to do! They got court side seats to a pregame shoot around, met and received a signed basketball from Justin Holiday, and Tyler stood at the Knicks fan tunnel and got to high-five every player as they entered the court for the game! After all of this, they also sent a Knicks jersey signed by Tyler's favorite basketball player Joakim Noah!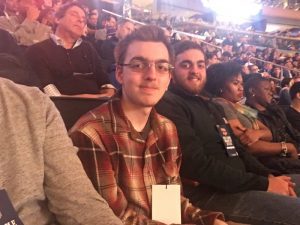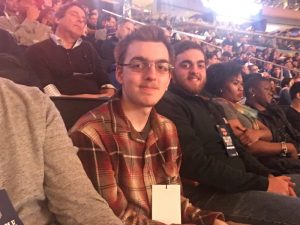 Tyler and his family were treated like royalty in New York City. When Tyler was asked about his favorite part of his trip he responded, "It was good to see my older brother have a good time! A lot of the time, during my treatment, my brother took the back seat during experiences. It was great to experience it all together." For Tyler's mom she noted, "We would not have been able to take a trip like this 2 years ago or even a year ago because Tyler was so sick. Being able to watch Tyler walk around New York City and enjoy himself meant so much! I felt like this trip was the start of a whole new chapter for him."
Toby's Dream Foundation feels honored to help Tyler begin this new chapter in his life, and now for Tyler… Tomorrow begins with a dream.
Together, We Promise Foundation and Toby's Dream Foundation, make it possible for our Dreamers and their families to begin new chapters with a Dream of a lifetime.