Mickey, Minnie and Goofy too!
A true Disney World dream for Zach comes true!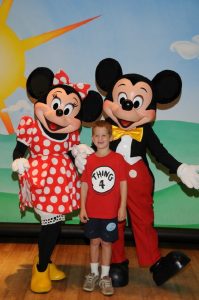 In Chesapeake, VA, there lives an extraordinary dreamer named Zach who knew without a doubt that his most fantastic dream was to one day visit Disney World to meet all the Disney characters that he has grown up loving.
One day, Toby's Dream Foundation volunteers arrived at Zach's house to interview him and his family about his dream. To the volunteers' delight, a very bright and smart 6-year-old Zach answered the door and welcomed them in.
Right from the get-go, our wish granting organization knew we had an exceptional and bright dreamer on our hands, as Zach communicated exactly what he wanted for his dream!
When asked by the volunteers what his most fantastic dream was, Zach simply said he had never been to Florida and wanted his whole family to go with him so they could experience all the fun together.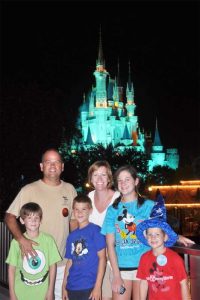 Soon Zach and his family, including mom, dad, and his siblings Matthew, Jason, and Kayla, traveled down to Orlando where they were treated like stars as they explored the wonders of Disney World together. Zach even got to meet all the characters he idolized growing up – the iconic Mickey and Minnie Mouse, fun-loving Goofy, and even the always comical Donald Duck! What a trip for such a deserving young man and his entire family!
Zach's mom shared a big Thank You withToby's Dream Foundation after the trip.
"Thank you from the bottom of our hearts for all the hard work you do every day to make kids' dreams come true," she said. "We had an unbelievable, magical trip to Disney! We are so honored to be a part of the Toby's Dream Family!"
Toby's Dream Foundation is equally honored to be able to provide laughter, smiles, and great memories for all of our fantastic Dreamers.
For Zach… Tomorrow begins with a dream…