Zoës Christmas Party
On the last day of the decade, Toby's Dream Foundation humbly reflects on the joy we have had of serving over 450 children with life-threatening illnesses throughout Hampton Roads and beyond for the past 10 years. The spirit of giving and bringing happiness during times of such unimaginable difficulty is deeply rooted in our community and the generosity and compassion of our friends and supporters is appreciated beyond belief.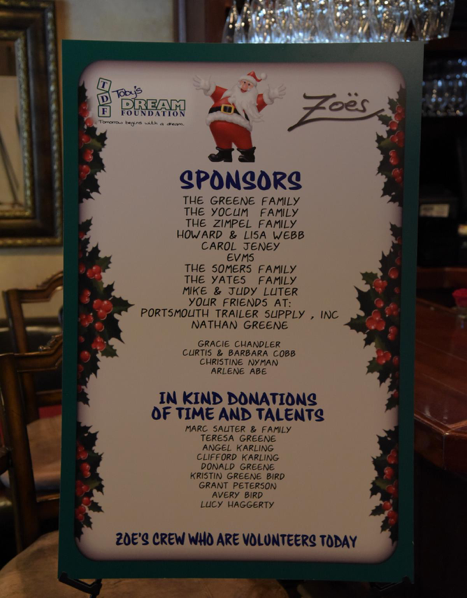 Our friends at Zoës Steak & Seafood recently channeled their holiday spirit and generosity by hosting a fabulous Christmas party for some of our Dream kids. A visit from Santa & Mrs. Claus, a first-class meal, and of course, presents for every little boy and girl (moms and dads, too!).
A huge thank you to Bill & Joni Greene and Mark Sauter, owners of Zoës, and the generosity from the many sponsors who contributed monetarily, as well as with time and talents, for putting on such a special event and for bringing such joyous smiles to the faces of these deserving children.