We Promise Foundation Grants $200,000 to Toby's Dream Foundation
Toby's Dream Foundation is honored to announce that its long-time charitable supporter, Chartway Federal Credit Union's We Promise Foundation, has generously given a $200,000 grant to the local children's charity. This contribution will enable the two dream-granting organizations to work together to fulfill the wishes of approximately 50 local children who qualify for the program.
"Since the creation of Toby's Dream Foundation in 2009, Chartway's We Promise Foundation has been a pivotal partner by providing funding for children battling various types of cancer, rare syndromes, and even those waiting for life-giving transplants.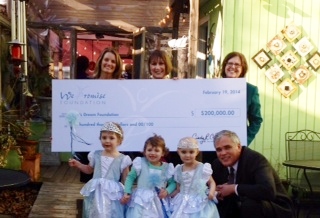 "  "In all, We Promise has donated a total of $425,000 to bring joy to 110 children living in Greater Hampton Roads and on the Eastern Shore of Virginia. "
About Chartway Federal Credit Union's We Promise Foundation
As the charitable arm of Chartway FCU and its divisions of HeritageWest and SouthWest Community, the We Promise Foundation is dedicated to making dreams come true for children battling degenerative, life-threatening, debilitating or chronic illnesses, or those facing tremendous hardship. Since 1999, the credit union and its We Promise Foundation have raised more than $5,800,000 to bring smiles to the faces of more than 1,200 children.
Toby's Dream Foundation is grateful to We Promise Foundation for their continued support in an effort to serve the children in our community whose challenges are beyond our imagination.