A teenage boy's dream room!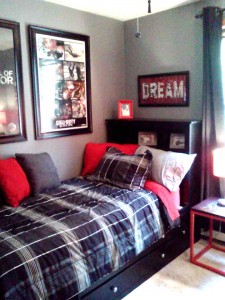 Brenden's volunteers asked him what he dreamed about more than anything and he immediately answer: he wanted a room makeover for his bedroom. He loved to play video games, just like most 15 year old boys, and he wanted a place to hang out in comfort. He wasn't specific about exactly what he wanted but he knew he wanted it to be geared around his playing games.
While attending a recent Toby's Dream event, three guests heard about Brenden's dream and offered to shop and decorate the room to make his dream come true. All three volunteers, Laurie Phillips, Christine Fagan and Cheryl Weber, have teenage sons so they knew exactly what a young man his age might want. Brenden picked the colors of red, black and grey and the women went shopping with the intent to make this the best teenage room around!
On a recent Friday afternoon, Brenden's mother informed him that he and his sister were to spend the night with their grandmother because there was some work being done on their house. Brenden did not know the "work" being done was the volunteers making his room magical overnight!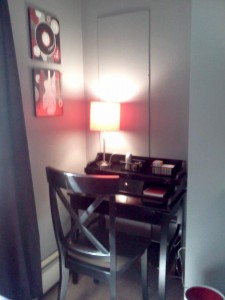 They painted the walls, brought in a new bed complete with mattress, box springs and linens. The bed even has a storage drawer underneath for clothes. They brought in a gaming chair to make gaming more fun, a mini fridge ( a special request from Brenden), a desk and chair, a television stand and a 32 inch flat screen television– a treat for any teenage boy. After painting the walls and installing new window treatments, the volunteers completed the project with pictures, lamps, pillows, posters that any teenage boy would love and over the headboard of his bed a special sign to remind Brenden to "Dream".
Brenden was surprised when he arrived home the next morning and walked into his new room. A direct quote from Brenden: "My favorite part of the room is…everything! I was really surprised and shocked! I love it!"
Toby's Dream would like to thank Laurie, Christine and Cheryl for all of their hard work in making this dream come true for Brenden. They not only did the work, they also raised the funds for Brenden's dream from their family and friends. This was truly a labor of love from three very caring women.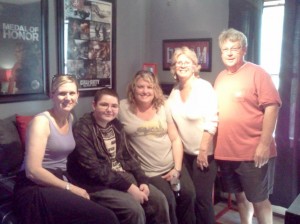 For Brenden… Tomorrow begins with a dream!