Elijah's NASCAR Dream Come True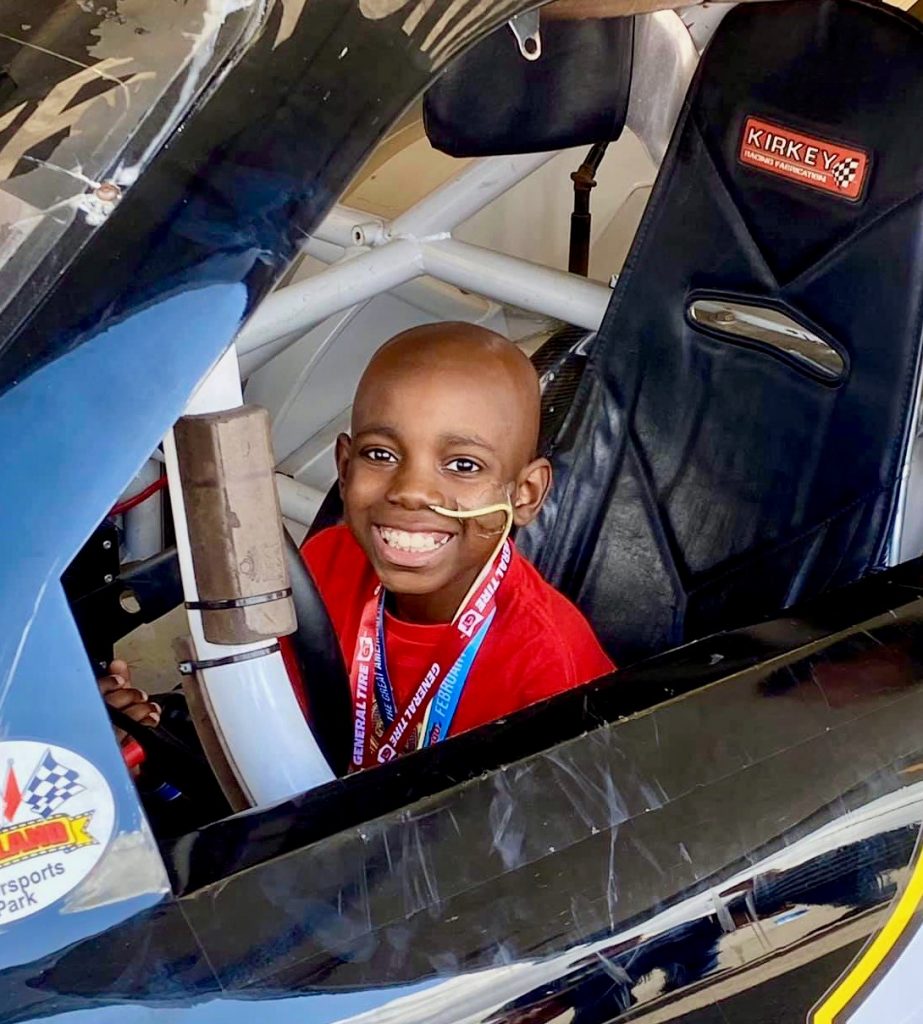 Elijah, age 11, was referred to Toby's Dream Foundation with a special request from his doctor, who already knew what Elijah dreamed of more than anything. During his treatments for cancer, Elijah and his doctor had many chats about his favorite subject, NASCAR racing! Elijah, his grandmother and father watch the races every week and each have their own favorite driver.
The doctor requested that we fulfill a dream of a lifetime for Elijah to attend the Daytona 500 race, which would truly make his dream come true. Normally, we have time to plan these types of trips and experiences, but when the doctor reached out to TDF, the 500 race was just five days away. The good news was we had five days to plan and execute this request for this very special young man. Remember our motto, the word "impossible" does not exist when it comes to fulfilling a dream for these kids.
Our team went to work quickly with help from Jacque Frame at Richmond International Raceway. Four days later, Elijah, his grandmother and father were on their flight to Florida to experience his dream of a lifetime.
Elijah's doctor asked if we could keep this a secret from Elijah until we were certain we could make it happen, so he did not know anything about this until we visited him two days before he left. Elijah was thrilled and could not believe he was attending the Daytona 500! He had no idea the special things that were waiting for him!
Toby's Dream Foundation always tries to make the dream a little better than what the child originally dreamed so we connected with Joey Logano, his favorite driver, who agreed to meet Elijah early one morning at his personal motor coach. Meeting his idol in person, Elijah was speechless. Joey gave him personal memorabilia and before they parted, Joey invited Elijah to join him in Victory Lane if he won the race! After his visit with Joey, Elijah was invited into the garage, where all the race cars are stored, prepped, and tested before the race. He was able to take photos in many of cars that he's grown up watching race around the track.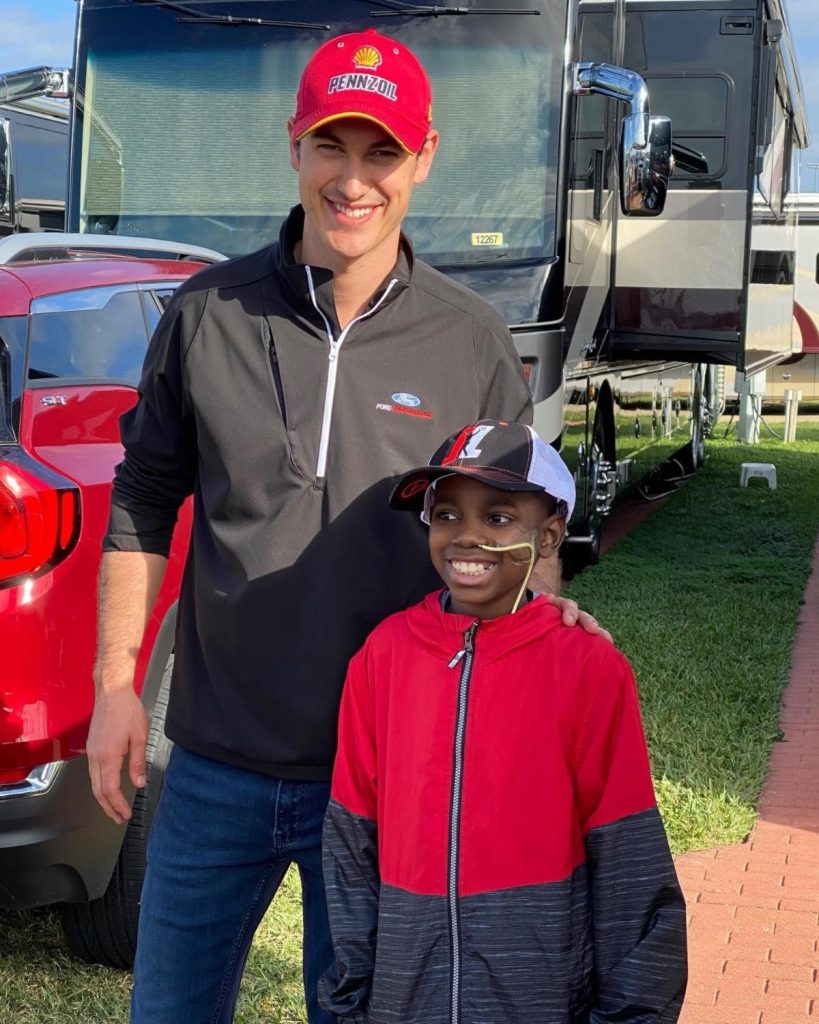 "I know he'll never forget that day. We are forever grateful," his mother said.
The following day, Sunday, was race day! And while you can usually count on good weather in the Sunshine State, major storms coming through the area ended up postponing the race to Monday. Elijah was scheduled to fly home Monday afternoon, but we were able to work our magic and successfully arrange for Elijah to stay one more day so he could see Joey cross the finish line.
The race was tense and exciting, especially for Joey Logano fans. He held strong through much of the race, taking the lead for many laps, but ultimately, crashed with just laps to go. While Joey was, thankfully, unharmed, he was unable to finish the race. However, that didn't put a damper on our NASCAR fan's big night.
Elijah's mother said, "Thank you, Toby's Dream Foundation, for making my baby's dream come true! Just to see that smile on his face made my day so much brighter!"
A huge thank you to our friend Jacque Frame at Richmond International Raceway for helping make Elijah's dream come true, and to our friends at Southwest Airlines for helping us rearrange Elijah's flights home so he could attend completion of the race. A special thank you to Joey Logano for his kindness to Elijah. Dreams really do come true!!
Keep racing, Elijah!
*****
With heartbreaking sadness, we learned that Elijah earned his angel wings just a month after his NASCAR dream came true. Our hearts go out to his parents and family as they process this tremendous loss. Elijah was one of the sweetest boys I have ever met and his gratitude for making his dream come true was evident in the big hugs we received when we broke the news to him that he was going to the Daytona 500. Meeting Joey Logano was a thrill beyond his imagination. Please keep Elijah's family in your hearts and prayers. 
Fly high sweet Elijah!