Sammy Meets Spider-Man to Fulfill a Lifelong Dream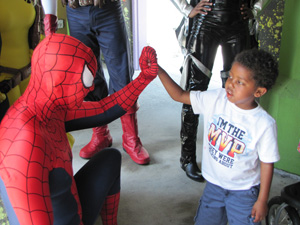 Toby's Dream Foundation (TDF) was recently introduced to a very special boy: Sammy, age 4– referred by the Children's Hospital of The King's Daughters (CHKD) as an "urgent" dreamer. When the call came in the request was for TDF to interview the family the very next day as there was a very short period of time for Sammy to be able to truly enjoy his dream.
Sammy was adopted at the age of 13 months from Ethiopia and joined his loving Chesapeake family in 2008. He instantly became an integral part of his new family. Sammy could always be found filling any room he was in with his boundless joy and laughter.
In June 2011, four-year-old Sammy was diagnosed with an inoperable brain tumor. So Toby's Dream Foundation made sure Sammy's big dream to meet his idol, Spider-Man, happened right away. Within a week and a half, the family was on the plane headed to Florida for Sammy to experience his most fantastic dream!
Sammy and his family arrived at the Give Kids the World Village (GKTW) in Disney World where they were taken care of throughout their stay. To make his experience even more special, Sammy and his family also got to experience all the sights and thrills of Universal Studios and Sea World. But Sammy's big moment was when he got to meet Spider-Man for a private meet-and-greet! Wide-eyed and in awe, this special one-on-one interaction brought out the life in this courageous boy! Sammy's family will always remember that special moment they all shared when his dream finally came true.
Sammy and his family had a fantastic time exploring the theme parks they visited and they will always treasure the beautiful memories that they created together.
Sadly, sweet Sammy earned his angel wings shortly after his magical trip.
Toby's Dream Foundation is so thankful to have had the opportunity to meet such a remarkable child like Sammy and honored to be able to make his dream come true. A special, heartfelt thanks to everyone who helped make this experience possible.
For Sammy… Tomorrow begins with a dream…