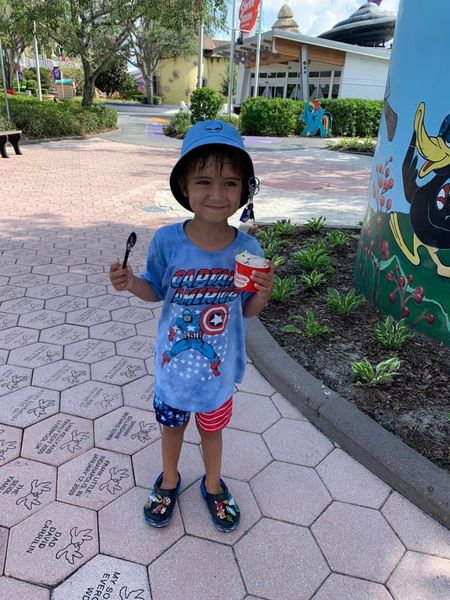 Titus, age 3, is a happy little guy who likes to play outside and loves Legos and Transformers. When it was time to decide what Titus's most fantastic Dream was, he decided he would like to go to Disney World and Legoland with his family. Titus and his family packed in a solid week of fun exploring all of Orlando's theme parks, relaxing poolside with ice cream at Give Kids the World Village, and simply spending time together as a family.
During the first couple of days of Titus's trip, he visited Magic Kingdom, Animal Kingdom, Hollywood Studios and Legoland. However, his time at Animal Kingdom is what stands out most for him. "He still talks about the safari and he was super stoked about the bird show," his mother said. Titus added that he loved seeing the rhinos because, "I liked that they are pretty strong!"
Later in the week, Titus spent some time at Universal Studios, which he loved! He got to see so many characters that he knows and loves — even Optimus Prime! His mother said he had a BLAST at Seuss World, riding the Cat & the Hat ride twice because he loved it so much. "He got to do everything there and really enjoyed himself — it even inspired his upcoming birthday party theme!" She noted that he also really loved Harry Potter World and riding the Hogwarts Express.
During their stay at GKTW, Titus and his family were touched by the wonderful staff. "They were amazing — everybody had a smile on their faces. You can tell they genuinely enjoy what they do."
When asked what this trip meant to Titus and his family, his mother responded by saying, "We are a blended family, and it was all of us who got to go. The best part was that we all got to enjoy that time with Titus — not just one set of parents with him." She added, "We made memories that we will never be able to recreate. Having all of us together to be able to have a fun time free of appointments, medication or hurting — just having a fun time as a family — was perfect."
We are so happy to have been able to help this sweet family make meaningful memories to last a lifetime. We are thankful for our partnership with We Promise Foundation who helped to make this Dream come true for Titus.