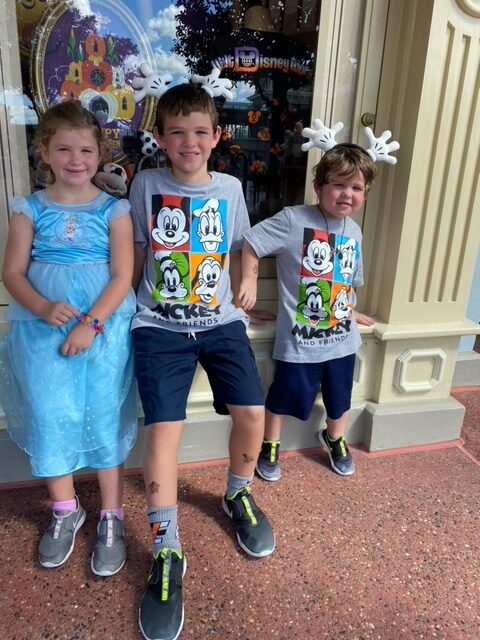 Nolan, age 4, is a little guy who likes to play video games and loves Disney Junior — especially Bluey! Nolan knew right away that his Dream was to go to Disney World and experience all of the magic that it has to offer.
Nolan's family spent several days at the Disney Parks and Universal Studios, with the highlight for Nolan being seeing Cinderella's castle. "Another big highlight for Nolan was seeing the Disney Junior part of Hollywood Studios — there was a cool dance party that he enjoyed," his mother said. He also loved riding the rides at Disney, especially the Seven Dwarfs train ride and Splash Mountain. At Universal, Nolan had the most fun exploring Simpson's World and riding the Amazing Adventures of Spiderman.
While Nolan and his family enjoyed exploring the theme parks, their stay at Give Kids the World was the definite highlight of his Dream experience. His mother even went so far as to say that they liked their stay at GKTW even more than the theme parks! Nolan loved the activities that the Village offered each evening. He got to pick out a costume and go trick-or-treating and even had an evening devoted to Christmas activities. But the icing on the cake was, of course, all the free ice cream he could eat every night! His mother said about the volunteers and staff at the Village, "They really made him feel special — like a real prince. They made our other kids feel really special, too. They were absolutely amazing."
When reflecting on Nolan's Dream trip to Disney, his mother said, "This trip meant the world to us. For us to get to go on a vacation by ourselves and enjoy our time together was just amazing." She added, "We are just trying to soak up every moment with Nolan. Seeing his face light up every day was amazing."
We at Toby's Dream are so happy to know that Nolan's face lit up with joy during his Dream. We are thankful for our partnership with We Promise Foundation in helping to make this Dream come true for Nolan and his family.