Toby's, 16, Dream Adventure!
Toby is not your average Dreamer. He is a thrill-seeking, adventurous teenager that truly takes life by the horns! So, what did this adventurous teen dream about when asked what his most fantastic dream would be? His answer? Shark diving.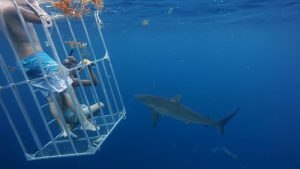 When asked why he chose shark diving as his dream experience, he explained, "I felt like it was the opportunity to choose a once-in-a-lifetime experience!" Since Toby did not have any siblings to accompany him, he brought his best friend to share the experience. When it came to the shark diving day, Toby said he was a little nervous, but their instructor told them to remain calm. The instructor went on to tell them sharks usually eat at dusk and since they were going early in the morning, they had nothing to fear. Toby, his family, and his best friend all got into an open metal cage and dropped into the water. The cage was open, so they could actually swim around with the sharks! Toby said he mostly stayed in the cage, but did venture out into open water once or twice to get the full experience. Toby explained, "Sharks know we are humans and as long as we didn't make them feel threatened, such as, reaching out to touch them or make any sudden movements, then the sharks will just swim. It was really cool to see them that close."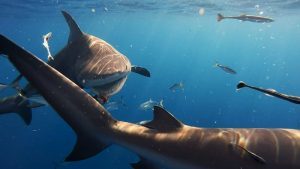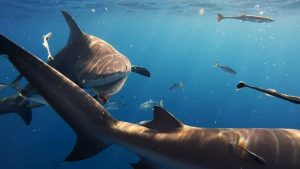 Toby reminisced his favorite part of the shark diving experience was when they dropped a crate full of tuna heads into the water and they got to watch the sharks "destroy" it. He went on to share that shark diving wasn't the only awesome adventure they went on while in Florida. They also took to the Everglades by airboat and went bowfishing at night!
After reflecting on all of his adventures in Florida this summer, Toby said, "This trip ended up being more sentimental than I thought it was going to be. It was a great bonding experience between my step-dad and I. It gave everyone a break from all of the cr*p that's been going on." A sobering quote from the mouth of a teenager carrying the weight of a life-threatening illness.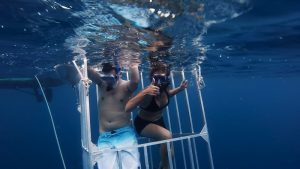 Toby's Dream Foundation and our partner, We Promise Foundation, are so thankful we can provide our Dreamers and their families a break from carrying that weight, while giving them happy memories to remember when times get tough!
***Please excuse the above language, it was a direct quote that we felt couldn't be changed without lessening the emotion behind the quote. Hopefully, the asterisk gave the appropriate amount of censoring. Thank you for understanding***