3 Little Princesses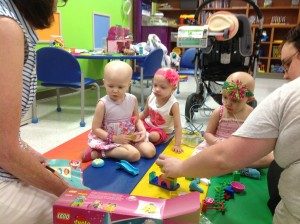 Once upon a time, there were three little girls: Abbi, Madelyn and Sophia. All of the girls were only three years old when they met at the Children's Hospital of the King's Daughters (CHKD). They were there because each had been diagnosed with cancer. Abbi and Madelyn have the same type of cancer: Neuroblastoma; and Sophia has Acute Myeloid Leukemia. These three princesses bonded quickly and became best friends as they were treated for their respective illnesses.
They began to schedule their appointments at the same time so that together they could endure the treatments that would hopefully make them well again. Somehow, having a friend going through the same thing made it a little less painful. The girls' parents also became friends, helping each other through rough spots and rejoicing with each other in successes along the way. These families connected through the cancers they were all facing, and formed a unique support group for each other.
Abbi, Madelyn and Sophia were referred to Toby's Dream Foundation (TDF) by the medical personnel at CHKD to receive a dream of a lifetime. All three little girls dreamed to go to Disney World to meet the Princesses. Because of the bond between these three princesses, TDF decided to send all three families at the same time so that they could enjoy everything that Disney World has to offer together.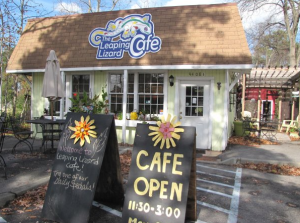 To send the lovely Princesses off, a special Tea Party was held in honor of Abbi, Madelyn and Sophia at The Leaping Lizard Café– a charming little café on Shore Drive that looks like an enchanted cottage, the perfect place for a Princess party! Leaping Lizard Café's owner Bill Prince and his staff generously donated this party to help celebrate the dream that is shared by these three little girls.
The three best friends stayed at Give Kids the World Village, a special village only available to families who have children with life-threatening illnesses. Each family stayed in their own villa and had access to all the amenities offered there, such as free ice cream all day, pony rides, swimming pools, Disney character visits, and lots of love from the staff and volunteers who keep the village running.
The three little Princesses squealed with joy as they entered the park. With wide eyes and hearts full of joy, they set off to explore the Magic Kingdom, meet all of the princesses, hug Mickey Mouse, and take in all the magic that Disney World could offer: it truly is the place that makes dreams come true.
The girls' families enjoyed the trip too, and the fact that all three of them got to experience it together made it that much sweeter. Madelyn's mother wrote, "We are very grateful to Toby's Dream Foundation and the We Promise Foundation for making Madelyn's dream come true and for providing our family with a wonderful getaway and time to enjoy being together as a family, which we had lost during the course of Madelyn's treatment. We also appreciate Toby's Dream going above and beyond by planning the Dream so all three girls could go at the same time. It was great for the children, and for the adults as well, as we formed bonds based on the similar struggles, fears, and hopes that we all shared going through this journey."
All three of these dreams were sponsored by the partnership of the We Promise Foundation and Toby's Dream Foundation.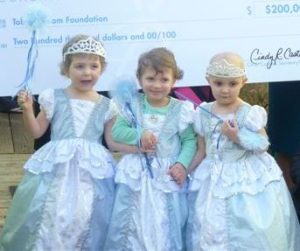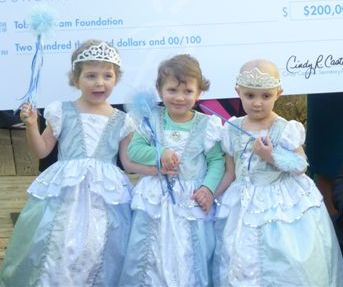 For Abbi, Madelyn and Sophia… Tomorrow begins with a dream.