A Musical Dream for a Special Teen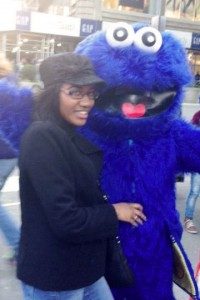 Although only 17 years old, Aimee is an old soul. She is not your typical teenager. Instead of listening to Top 40 radio and the latest pop sensations, Aimee LOVES classical music. She plays the violin and piano and also composes her own music at times. Aimee attends Woodside High School in Newport News where she is involved in chorus and has made the All-City Chorus several times. She has also performed in a few musicals including productions of Hairspray, Beauty and the Beast and South Pacific.
After completing her treatments for cancer, Aimee was referred to Toby's Dream Foundation (TDF) to receive a dream of a lifetime. When the TDF volunteers came to interview her, there was no doubt as to what she wanted more than anything…. to see world famous conductor, Gustavo Dudamel in concert on his United States tour.


Mr. Dudamel was only performing in two cities while in the US: New York City and Los Angeles, with only two performances in each city. The Los Angeles philharmonic orchestra was scheduled to perform under the direction of Mr. Dudamel with selections from the composers Vivier, Debussy and Stravinsky.
A limousine ride to the airport initiated the dream trip for Aimee and her family. The next five days were a whirlwind of concerts, Broadway plays, restaurants, Times Square, Greenwich Village, Chinatown and a special visit to New York University where Aimee hopes to attend in the fall of 2013.
Aimee looked stunning in her ball gown when she attended Mr. Dudamel's performance in Avery Fisher Hall in Lincoln Center in New York City. Her dream was truly a dream of a lifetime, but it was only the beginning for this adventurous young lady.
We are proud to announce that Aimee has not only been accepted at New York University, but she has been extended a scholarship and the opportunity to attend NYU in Shanghai, China. She graciously accepted this offer to study in China as one of only three United States students chosen for this program.
Toby's Dream Foundation is honored and privileged to have Aimee in our TDF family and we look forward to following her and her future endeavors.
Dreams really DO come true and Aimee's dream came true, thanks to our partnership with We Promise Foundation. Thank You!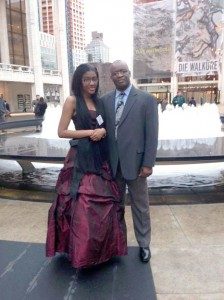 Aimee and her dad before the concert
For Aimee… Tomorrow begins with a dream!