Alexander, 8, was born with a rare congenital birth defect and without a diaphragm.  Despite his disabilities, Alexander was adopted by this loving family who already had two daughters.  After several surgeries, he is mostly wheelchair bound and trach dependent.  This hasn't slowed down this little guy though – he still manages to whiz around in his wheelchair and even pop wheelies!
Alexander absolutely loves being outside and especially bike riding.  He had always enjoyed riding in the baby bike cart behind his parents when the family would go for long family bike rides.  Since he is now 8 years old, he has outgrown his bike cart and has really missed bike riding.
When asked what Alexander would like for his most Fantastic Dream, his family mentioned a wheelchair bike "because it would be a dream that would last a lifetime.  A lifetime of memories, laughter, and joy for Alexander," his mom said.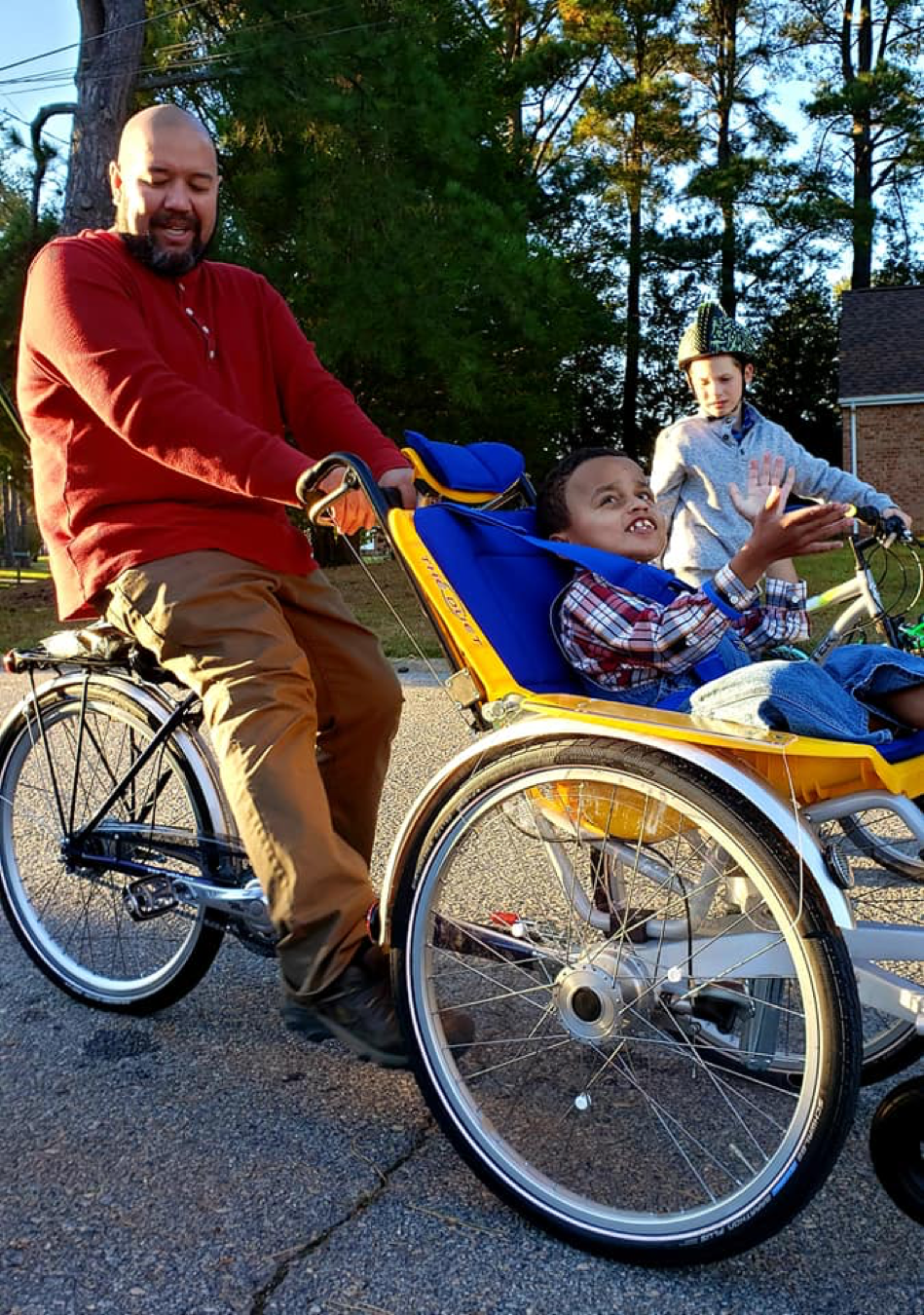 The moment that sticks out the most to Alexander's mom was when Alexander was able to ride in his new bike for the first time.  "Daddy took him around the neighborhood with his siblings and neighbors watching.  His smile was the definition of joy.  He felt just like all of the other children, being able to ride bikes just like his brothers and sisters," she said.  His happiness was palpable as he took off for the first time, clapping with joy, with his family and neighbors cheering him on.
Alexander's mom added, "This dream means so much to our family. It is a gift for our entire family, we are able to ride bikes as a family again and it brings us so much joy to see Alexander full of smiles. Thank you for blessing our family."
We at Toby's Dream Foundation are thrilled that Alexander is able to be back on a bike with the breeze in his sweet face alongside his family on their bike rides.  We are thankful for our partnership with We Promise Foundation, together we made this Dream come true.
Enjoy the ride, Alexander!