Braille Laptop and Tandem Bicycle Top the List for Alexander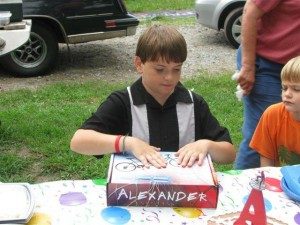 Toby's Dream Foundation has made the dreams come true for so many children with life-threatening illnesses. There is no great joy than watching a child see the fulfillment of his dream come true.
One of our dreamers received his dream of a lifetime when TDF volunteer, Vicki Blett one of our dedicated and loving volunteers, presented Alexander, age 11, with a special laptop equipped with Braille software!
The laptop came complete with all the extras specialized just for Alexander so now he can begin learning how to write to all of his friends so they can hear about his experience with Toby's Dream.
But that was not all! Alexander's illness has taken his sight and has stopped him from enjoying some of the basic pleasures we all take for granted. He also received a one-of-a-kind tandem bicycle for himself and a companion so he could feel the wind on his face the he has missed for years.
We are honored to have had the opportunity to help make this special dream come true for an extraordinary young man! We have many more children awaiting their dreams and you can help make that possible by going to our donations page to help the more than 65 kids we have waiting for their wishes to come true.
For Alexander… Tomorrow begins with a dream!