Caleb, age 15, is a huge sports fan – specifically Virginia Tech – and an aspiring sports announcer. For his Dream, he requested a trip to see the VT/UVA basketball game and get a behind-the-scenes experience with Bill Roth, the 'Voice of the Hokies'. "I wanted to meet Bill because he's always been the announcer for the Hokies and I wanted to learn from him. I like to talk about sports, so I'd like to do something in my career that would let me do that. It was really cool that I got to meet him and got the experience that I did."
Caleb started out his trip by attending the final practice of the Tech basketball team before the big game. He broke down the final huddle and was presented with a basketball signed by the whole team.
On the day of the game, Caleb got to see the studio where VT sports coverage takes place. "I got the rundown of what the studio does and I even got to film a pre-game analysis," Caleb told us. "I was very nervous!" But you wouldn't be able to tell, according to Bill Roth. "Caleb jumped right on our set and delivered a terrific update on the Hokies' basketball team," Bill said. "He had a tremendous experience, and his visit was just as impactful to our sports media and analytics students. We are all big fans."
Before long, it was time for the game. But not before a quick meeting with legendary Hokies Football Coach, Frank Beamer. "He was really nice," Caleb said.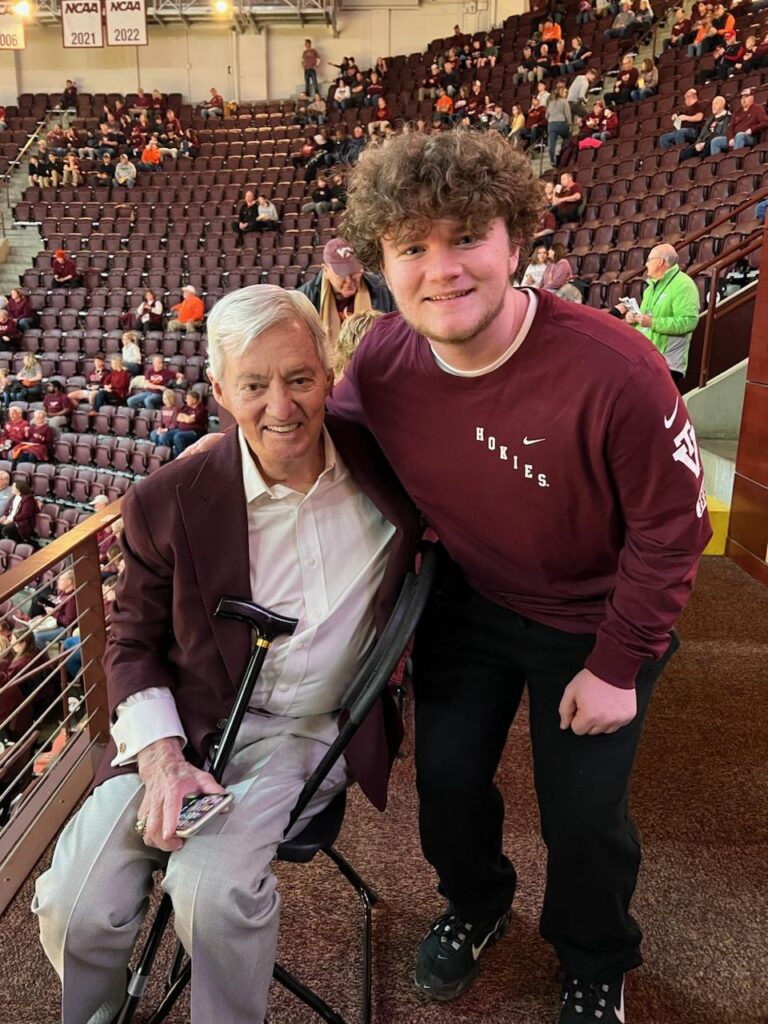 In an unexpected but serendipitous twist, Virginia Tech ended up beating UVA! "The game was a lot of fun and the highlight of everything for me was when Tech won," Caleb said. After the game, Grant Basile, Forward for the Hokies, ran up to Caleb and gave him two high fives! "l loved seeing him so excited and seeing him enjoy everything," his mother said.
"It meant a lot receiving this Dream," Caleb said. "I am so appreciative that you guys went out of your way for this." His father added, I'm grateful that he had the chance to go to my alma mater and that they took such good care of him!"
Caleb's mother said that there were just no words to explain how this experience made her feel. "He chose something that he wants to do in the future - it could be life-changing. Watching him do all of that and meet all of those people - it was really great. Bill Roth told him to keep in touch!" She added, "I know he still has his medical battles, but for a weekend, he didn't have to think about it as much. It was pretty awesome."
We know Caleb's future is bright - perhaps even a future Voice of the Hokies! We wish him the best of luck in his pursuit of his dream. We are thankful for our partnership with Chartway Credit Union and #ChartwayPromiseFoundation in helping to fund this Dream and to Bill Roth and Frank Beamer for spending time with our future Hokie!