Trip of a Lifetime: Snorkeling in the Florida Keys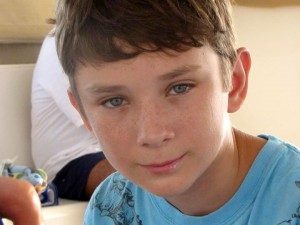 At the age of 12 years old, how many kids can say they've truly experienced the trip of a lifetime while snorkeling in the Florida Keys?
As a big fan of the Discovery Channel series "Blue Planet," Jake's dream was to spend a day at the coral reef in the Florida Keys where he could take in the marine life and the expansive and vibrant beauty of living coral for as far as the eye can see.
To start the trip off just right, a stretch limousine pulled up to Jake's house where Jake and his siblings, Adam and Charity, piled in with parents, Leslie and Robert. Together, the family rode like celebrities to the airport and made the trip down South to the sunshine of the Florida Keys.
Once the family arrived and settled in, the adventure began! To embark on the snorkeling excursion, a boat took the family more than five miles out to sea where Jake basked in the breeze and sunlight until the boat arrived at the coral reef. The crew wasted no time in jumping in the water with scuba gear and lifejackets so the whole family could experience the beauties that lie beneath the ocean!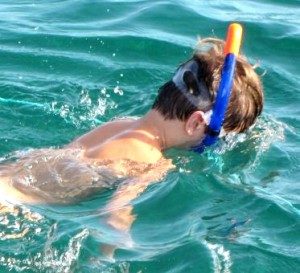 Beautifully colored fish and marine life bustled on by a wide-eyed and grinning Jake as he happily swam through the ocean in his gear with his family in tow. Jake was definitely the star of the day reveling in all the reef had to offer.
But the adventure did not end there! What's better than the chance to captain your own ship? As the boat headed back to harbor, the crew gave the reins over to "Captain" Jake who took hold of the wheel and steered the boat back to shore.
While Jake and his family had an incredible experience taking in all the coral reef had to offer, the adventure continued as Jake's family headed to a marine center where Jake got to get up close and personal with the dolphins.
All in all, Jake had a spectacular time exploring the reef, captaining the boat and making friends with the dolphins while in the Keys.
Jake's father said he was glad Jake got to experience his most fantastic dream because the whole experience helped Jake build more self-confidence and to truly enjoy life in the moment.
"The work that the Toby's Dream Foundation does is incredible and those that do all the hard work should be commended for their love and concern for the special children they bring such joy to," said an incredibly appreciative Robert. "Once again, thank you all so much for bringing this special dream to Jake."
Jake and his family created memories that will last a lifetime!