Kam's Fantastic Football Fantasy Come True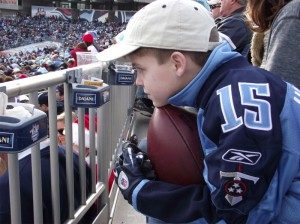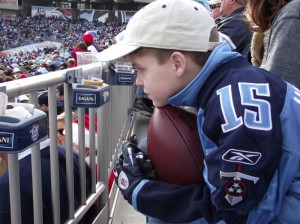 This past December, many young children across the country eagerly anticipated tearing open holiday presents to reveal great gadgets and toys, but our 11-year-old dreamer, Kamren, was instead on his way to Nashville, Tennessee. with his family to experience his most fantastic dream.
Kamren, a huge football fanatic, has been spouting football facts with his grandfather since he was a toddler and has a special appreciation for everything-football, especially if it relates to his favorite NFL team– the Tennessee Titans. So it's no wonder that Kam's special wish was to meet his favorite Titans' player, punter returner Marc Mariani, and the entire Titans team.
Thanks to the many generous donations of TDF sponsors and donors, this Tennessee-born dreamer packed up his bags and headed West with his mom, dad, and two sisters right by his side to begin his journey to LP Field to watch the Titans face off against the Jacksonville Jaguars on Christmas Eve.
There must have been some Christmas magic in the air because this special boy received the ultimate VIP treatment from the Titans at LP Field. The whole family took part in a behind-the-scenes tour of the facilities and attended practice where they snapped photos with the players. Kamren was especially excited to meet Marc Mariani, who went out of his way to make Kam feel like a part of the team.
During the locker room visit, Kam and his family walked in to discover a personalized Titans jersey and football hanging in a locker for Kam. The sight brought tears to the eyes of Kam's father and grandfather who were overwhelmed by the generosity of everyone involved in making this dream come true for Kam. With a final pep-talk from Kam, the Titans ended practice fired up and raring to go for their big game the next day.
On Christmas Eve, the family returned to LP Field where they received an on-field game day experience that would rival any NFL superfan's wildest dream. Kam sported his very own jersey and Marc Mariani's helmet, a one-of-a-kind gift no one has received before in the history of the franchise. With high-fives all around, Kam helped the team warm up before the game and then rallied the Titans as they charged onto the field from the tunnel to a roaring crowd.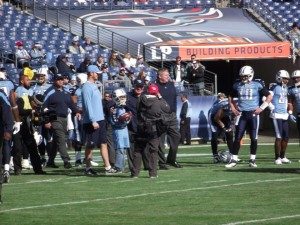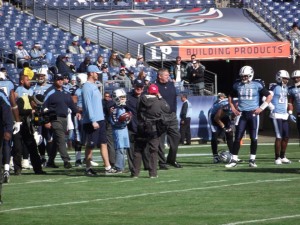 We know the magic in the air that day was no Christmas miracle, but rather it was the unmatched spirit and enthusiasm of a special young boy sitting in the stands with his family, enthusiastically cheering on the Titans to 23-17 victory.
This unmatched NFL experience is something a glowing and appreciative Kam will never forget, but also an experience that made a lasting impact on the Titans team and those who took part in making Kam's most fantastic dream come true.
We know Kam and his family will always be thankful to TDF and the Titans for the truly magical Christmas Eve experience. And each night as Kam doses off to sleep with his favorite football tucked in his arms, there's no doubt in our minds that Kam will always "Remember the Titans."
For Kamren… Tomorrow begins with a dream!