Koby, 13, has loved Hot Wheels since he was born and has been an avid collector since the age of 11.  He boasts an impressive collection of more than 500 cars!  So when it was time to choose his most fantastic Dream, Koby's decision came easily – a trip to the Hot Wheels Factory in Los Angeles, California to see how is favorite toys are made!
Koby was presented with his Dream at the 2019 Chartway Norfolk Harbor Half Marathon.  We Promise Foundation invited Koby on stage where he was surprised with the news that his Dream of going to the Hot Wheels Factory would be coming true!
When the time came for Koby's trip, the family was a bit nervous about the flight, as this was their first trip on an airplane!  However, his mother said, "everything was so smooth and peaceful.  It was great!"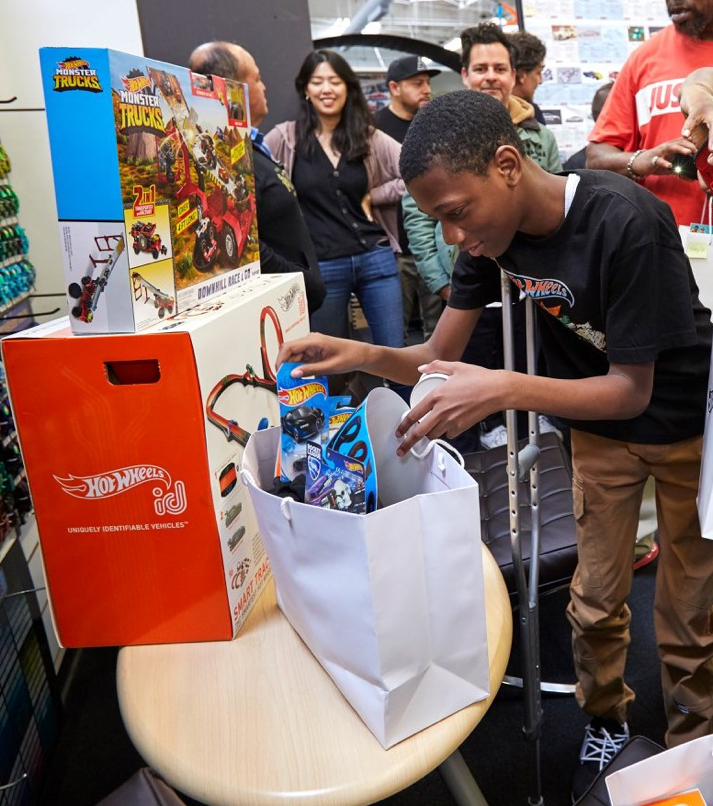 On the day of Koby's tour, the family arrived at the Hot Wheels Factory early in the morning, excited for what the day would bring.  From a behind-the-scenes experience, to a private tour of the Hot Wheels garage, and even designing his very own Hot Wheels car, Koby was treated like a king.  "The people at Hot Wheels just made us so comfortable with everything.  They took care of Koby and they also took care of us!" his mother said.
The highlight for Koby was seeing the actual cars that he's only been able to see in miniature fo
rm before.  "We learned so much and Koby got to sit in an actual Hot Wheels car that had been on the track," his mother said.  "The best part was the family time and seeing Koby so happy," she added.
When asked what this experience meant to Koby, his mother replied, "this experience was so exciting – it was everything that Koby could ever imagine!"
Toby's Dream Foundation would like to thank We Promise Foundation for our great partnership in making this incredible Dream come true for Koby.