Building his dreams, one block at a time
Toby's Dream Foundation's (TDF) dreamer Kyran, age 6, loves to play with cars and LEGOS, so it was no surprise that his dream was to visit LEGOLAND® in Florida!
Together with his brother, Mason, and his parents, Mikki and Greg, Kyran embarked on his journey to fulfill his dream of experiencing the sights and attractions at LEGOLAND ®!
With more than fifty rides, shows and attractions, LEGOLAND ® is the perfect destination for LEGO ® fans young and old. Kyran was so excited in the days leading up to his trip that once he arrived, he had no idea where to begin! Would he start his adventure in the LEGO ® Village or would he begin in MiniLand USA? Over the course of their trip, Kyran and his family had time to explore it all! He even rode his first rollercoaster with his brother Mason by his side.
Kyran's parents were so appreciative of TDF and their help in making this dream a reality. Kyran's mom even shared this with us after they returned, "I wanted to thank you for Kyran's trip to LEGOLAND ®! He had a blast and we enjoyed ourselves very much! Thank you for everything Toby's Dream Foundation does. You all are absolutely awesome!"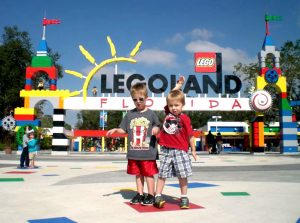 For Kyran… Tomorrow begins with a dream!