Dreams really do come true!
For Toby's Dream Foundation dreamer, Landon, the awe and wonder of Disney World was
the one thing he wanted to experience above all else. The sights, sounds and adventures
the park had to offer topped the list for him! With characters and superheroes parading
about, and fun-filled activities around every corner, this was certainly a dream Landon
wanted to enjoy with his family one day.
After receiving a transplant, Landon's parents, Patricia and James, noticed how full of life
Landon was and how he longed to experience something truly spectacular. In working with
Toby's Dream Foundation, Landon was able to realize his most fantastic dream and, even
better, able to experience it and see his dream come true!
With his parents and his brother, Chase, by his side, Landon's began his fantastic journey
to Orlando, Fla., home of the Disney World Resort and many other thrilling attractions.
Once at Disney World, Landon was treated like a superstar and visited a variety of
adventurous venues. Even better, he got to meet the superheroes and idols every young
boy admires!
After a day of exploring every sight, sound and spectacle the park had to offer, Landon's
big adventure continued as his family ventured over to Universal Studio and Sea World.
With a love for Nick Jr. and waterslides, Landon got to take part in it all! Together, the
family soaked up the sunshine, the attractions and enjoyed all the fun and laughter they
shared together on such a fantastic family trip.
Although the trip had to eventually come to an end, Landon and his family will always have
great pictures and memories of the wonderful time they spent together during Landon's
"dream come true" trip to Disney.
Landon's parents are especially grateful to Toby's Dream Foundation for creating this
once-in-a-lifetime experience for their son. A big TDF thank you to all those who helped
make Landon's special dream a memory he will never forget!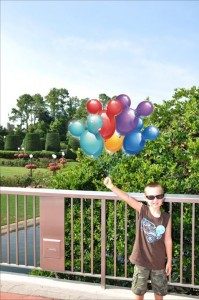 For Landon… Tomorrow begins with a dream!