Shakur Finds a Dream in a "Pineapple Under the Sea!"
If you've never been to a fantastic little city known as Bikini Bottom, then you need to speak with our three year-old Dreamer, Shakur! Recently returned from his Dream excursion to Disney World, Shakur got to climb through the television screen and visit this underwater neighborhood to meet his favorite animated personality, SpongeBob SquarePants!
Shakur and SpongeBob got their groove on with the whole Bikini Bottom gang before heading off to meet his other favorite television character, iCarly.
Shakur's smile, so bright and so wide, lit up all of the Magic Kingdom brighter than any stars ever could.  Toby's Dream Foundation would like to extend our sincerest thanks to Give Kids the World Village and every staff person, volunteer, donor and friend who made this very special Dream a reality for one of Hampton Roads' happiest three year-olds!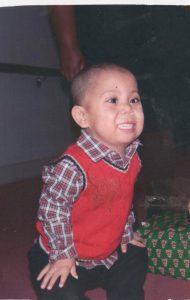 For Shakur… Tomorrow begins with a dream!