T'sion, age 8, realized his dream of traveling to Orlando, Florida where he visited the city's magical theme parks and enjoyed celebrity treatment at the exclusive Give Kids the World Village.
T'sion's mother had this to say about her family's experience:
"Thanks so much Toby's Dream for making this amazing trip possible! Our family had an incredible time at the Give Kids the World Village and the theme parks! Everyone was so warm and friendly and took complete care of us! We wanted for nothing! The best part was that everyone was sincerely concerned about our comfort and entertainment!"
Toby's Dream extends its own thanks to all of our fans and donors for helping to make this Dream a reality for T'sion and his family. We are especially grateful to We Promise Foundation.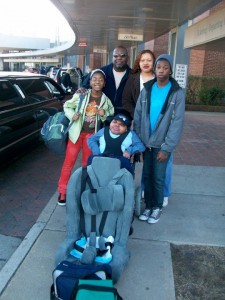 For T'sion… Tomorrow begins with a dream!