Dalton, age 12, had a Dream to go deep sea fishing.  While he had been fishing in smaller bodies of water here at home, he dreamed of being on the open ocean and catching a Mahi.  Because of Covid, we have been holding off on any travel experiences, when we had the opportunity to send him in April, we took it — and got right to work planning a safe and fun experience for Dalton and his family.
Because his fishing experience was in southern Florida, we were able to have Dalton and his family stay at Give Kids the World Village.  They flew out on Easter Sunday — but just barely!  "We didn't know until the day before that we were going to go because of Dalton's health — but between TDF and CHKD, they made it work," his mother said.  Upon boarding their outbound flight, Dalton received a special invitation — "We were the first ones on the plane and we were invited up to see the cockpit and meet the pilots!," he said.
Once in Florida, they enjoyed their time at GKTW eating ice cream every night, getting to trick-or-treat, and even getting into a Nerf war with Santa Claus!  His mother said, "GKTW was wonderful to us — and I think they enjoyed having people back, too!"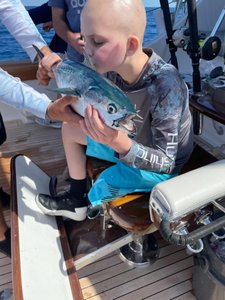 On the day of Dalton's fishing excursion, he and his family had an early morning and a 120-mile trip southeast to board their fishing vessel, Showtime.  During their 7 hours on the deep blue sea, Dalton ended up catching three Bonita and a Sailfish — the only one caught anywhere near them that day.  Dalton's doctor, Dr. File, was incredibly jealous and impressed, as he's been trying to catch one for years!  Dalton earned a lot of admiration from the crew — and his doctor — that day.
While the fishing trip was his favorite part of his experience, Dalton also enjoyed riding the Hulk roller coaster at Universal Studios, Splash and Space Mountain at Magic Kingdom, the safari at Animal Kingdom, and sitting in the Soak Zone during the Orca Show at Sea World.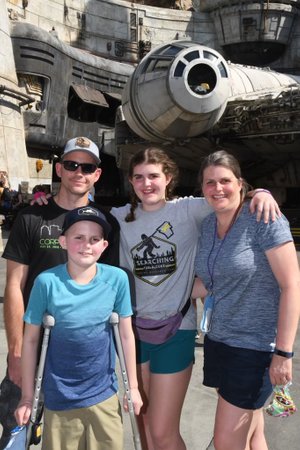 When asked what this trip meant to their family, Dalton's mom said, "It meant a week of family time, making new memories without thinking about cancer all the time.  To see him smile during his fishing trip and actually reel in the fish — getting to do and experience something new  — was so special."
We would like to extend a special thank you to Howard Webb, Jr. for arranging Dalton's fishing excursion in Florida. Howard is a valued sponsor who always responds to our needs when it comes to our Dreamers.  Fred and Nancy Hardwick, who generously hosted Dalton and his family on their luxurious boat, Showtime. Nancy graciously accompanied the family for the day of fishing.  Captain Jon Meade and his crew, Chase and Cody.  Jon worked with us prior to the trip to make sure Dalton's every need was met, and all three men assisted Dalton when he caught Bonita fish and especially when he caught a Sailfish!
We are also thankful for our partnership with We Promise Foundation in helping to make Dalton's fishing Dream come true.