It's Disney for Delvery!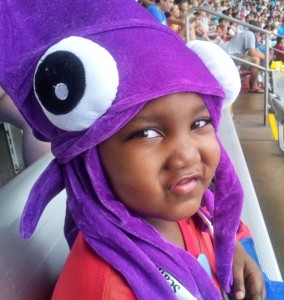 When Toby's Dream volunteers first interviewed five-year-old Delvery, they fell in love instantly. This gregarious little boy was adorable and very "chatty." He never stopped talking. He showed the volunteers some of his favorite toys and was excited about each and every one of them—especially all of his favorite super heroes and Disney characters. When Delvery said he wanted to go to Disney World, it seemed like a natural fit.
At the time, Delvery was still in treatment so the family asked if they could wait until summer to visit the land of The Mouse. Of course, Toby's Dream likes to accommodate the family's schedule, especially with treatments, so the date was set for some time in June.
While waiting for his dream in June, Delvery was invited to participate in several events including the We Promise check presentation to Toby's Dream in April. We Promise Foundation is the sponsor that generously donated the funds for Delvery's dream to come true. Once again, Delvery's spunk, charming personality and his million-watt smile were on full display.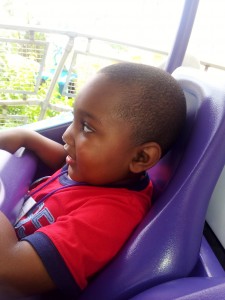 June finally arrived and Delvery and his family were off to Disney World! The highlights for Delvery were riding the rides at the theme parks, meeting Spiderman and all the super heroes at Universal Studios and visiting Sea World to watch the dolphins. At Give Kids the World Village, where the family stayed, Delvery was greeted by Disney characters throughout his stay, and each night the giant rabbit, Mayor Clayton, came to his villa to tuck him into bed.
"We all had a great time. Thank you all for everything. We were glad we had the opportunity to make his last days extra special."
This is a quote from Delvery's mother when she emailed Toby's Dream to inform us that he earned his angel wings just five days after returning from his dream trip. Delvery will always hold a special place in our hearts as we remember a precious little boy with a smile that can melt hearts.
We at Toby's Dream know we cannot cure these precious children from their illnesses, but we also know we CAN put a smile on their face and bring joy into their lives….even if for a short period of time. It is our hope that the dreams we provide will create memories for the family that last forever.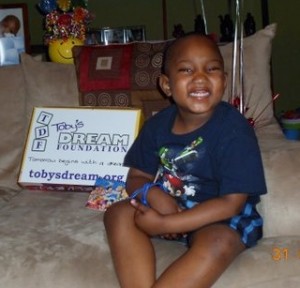 For Delvery… Tomorrow begins with a dream…