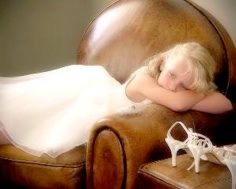 A Celebrity Appearance just for Eve
Eve was referred to Toby's Dream Foundation (TDF) by The Children's Hospital of the King's Daughters (CHKD). At the time, we knew that we only had a short time to make a dream come true for Eve, so we went to the hospital to interview Eve and her mother the next day after she was referred.
In talking with Eve's mother and learning how much Eve loved the outdoors, we decided the best dream for Eve would be to build a screened in gazebo in her backyard so she could enjoy the outdoors in comfort. The plan was to have the gazebo completed within a few weeks to be ready for Eve's homecoming from CHKD.
TDF contacted a local contractor who had done work for us before and has a heart of pure gold when it comes to these children. We met at Eve's house in Smithfield to view the backyard and see how the gazebo would best be built for Eve. The contractor was ready to begin within a few days and said it would not take long to complete as he understood the situation and the need to "rush".
A few days after this meeting, Eve's mother called to inform us that after discussing Eve's situation with her doctor, they had decided the best plan was for Eve to stay at CHKD and therefore the gazebo was not an option for Eve's dream since she would not be there to enjoy it. Toby's Dream Foundation understands how important it is to be flexible and assured Eve's mother we would come back to interview her again to see what we could bring to the hospital as her dream.
In talking with Eve and her mother, we learned that the only thing we could possibly do for Eve was to bring in her favorite Grammy Award winning songwriter/singer (who shall remain anonymous due to the request of the celebrity). Not knowing if this would be possible, the staff informed Eve's mother that they would do everything to try to make this happen, but could not guarantee anything since everything depended on the celebrity and other factors…scheduling, logistics, etc.
The staff left the hospital determined to refuse the use the word, "impossible", and went to work to think of a way to make this happen. An initial phone call to TDF's largest sponsor, DOMA Technologies ( who had the right connections), resulted in the celebrities' manager calling the TDF office just a few days later.
Within one week after interviewing Eve, this wonderful, caring celebrity flew into Norfolk, went to CHKD, sat on Eve's bed, played the guitar and sang songs to her. It was so touching to see this child finally realize her dream to meet her idol. The celebrity did not do this for publicity, as she requested to remain anonymous. This celebrity simply made this happen for a little girl whose tomorrows were limited.
Three weeks later, Eve's mother called to inform TDF that Eve had earned her angel wings. It happened peacefully that morning while listening to the music of this favorite singer. Toby's Dream Foundation will forever be grateful to this celebrity who gave Eve a dream of lifetime.
Sometimes dreams provide more than the dream itself. In Eve's case, it gave her peace during her transition.
For Eve… Tomorrow begins with a dream.