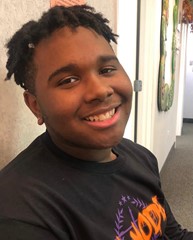 We met Jordan, age 14, on a chilly December day shortly after receiving his referral from CHKD.  He was a soft-spoken young man who enjoyed sports, watching movies, and being with his family.  Due to Jordan's aggressive disease, he was unable to get around easily.  So much so, that he was unable to comfortably sit down on the family's low couch.  His Dream was to be able to spend time, watch movies, and hang out with his family in his living room; so he asked for a lift-assist chair and a new big screen TV with surround sound.
We worked hard to get these items for Jordan as soon as possible, as we knew his situation required it.  Steve from Value City Furniture in Greenbrier generously provided a lift-assist recliner for Jordan and in days we were ready to deliver the chair and install the new tv and speakers.  We showed up with a movie basket filled with all of Jordan's favorite candies, gift cards for pizza, and his favorite juices.
When asked what this Dream meant to his family, his mother said, "Jordan's Dream being granted meant the world to him because it showed him that other people were cheering for him during his battle.  His wish was special because what was most important to him was being with his family and now, every time we are in the living room or have movie night, we can feel like Jordan is still with us enjoying family time."
Sadly, Jordan passed away a few days after receiving his Dream.  Our hearts are broken that he did not get to enjoy his experience more, but we know that his presence will be felt on family movie nights to come.  Fly high, Jordan.
We would like to thank We Promise Foundation for partnering with us to help make Jordan's Dream possible.  We would also like to extend very heartfelt extensions of gratitude to Steve at Value City Furniture for providing Jordan's recliner and to Alex Lane, VBFD firefighter and owner of COVA Construction, for installing Jordan's TV.