Katie, age 16, is a bright and cheerful young lady whose love for God and her family is undeniable. When Katie found out last fall that she had brain cancer, she was devastated, yet has stayed strong in her faith and remains as hopeful and optimistic as possible. When asked what her most fantastic Dream was, Katie said that she wanted to take an RV down to the Keys so that she could watch the sunset every night and also swim with the dolphins.
Katie and her family — including the family dog! — took a beautiful RV down the eastern coast, all the way to Key West, Florida, where they stayed at the luxurious Bluewater Key RV Park. They parked on a lot that overlooked the ocean, complete with their own deck and private cabana — the perfect spot to catch the sun set. "I've never been to a beach where we have stayed until the sun sets, so I wanted to see it set over the ocean — it was really pretty!" Katie said. She added, "My family enjoyed the scenery and how nice it was."
Katie and her dad were in for a treat when they arrived at their dolphin encounter at the Dolphin Research Center — literally — as the dolphins they interacted with came bearing presents! "One gave me a rock and the other one gave me a piece of seaweed — they were so sweet," Katie said. Katie enjoyed seeing her dolphin, Jacks, mimic her, saying, "Whatever I did, he did, and it was so fun." She also got to go for a ride with the dolphins. "I held onto their fins and they swam around the encounter. The other one then pushed me around with his nose," she said.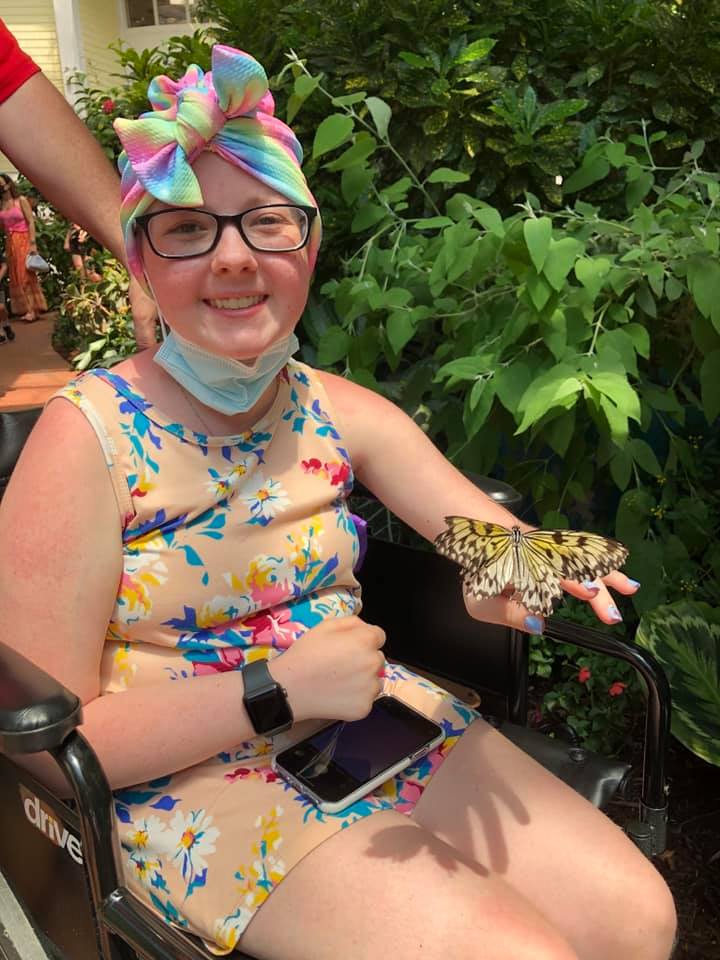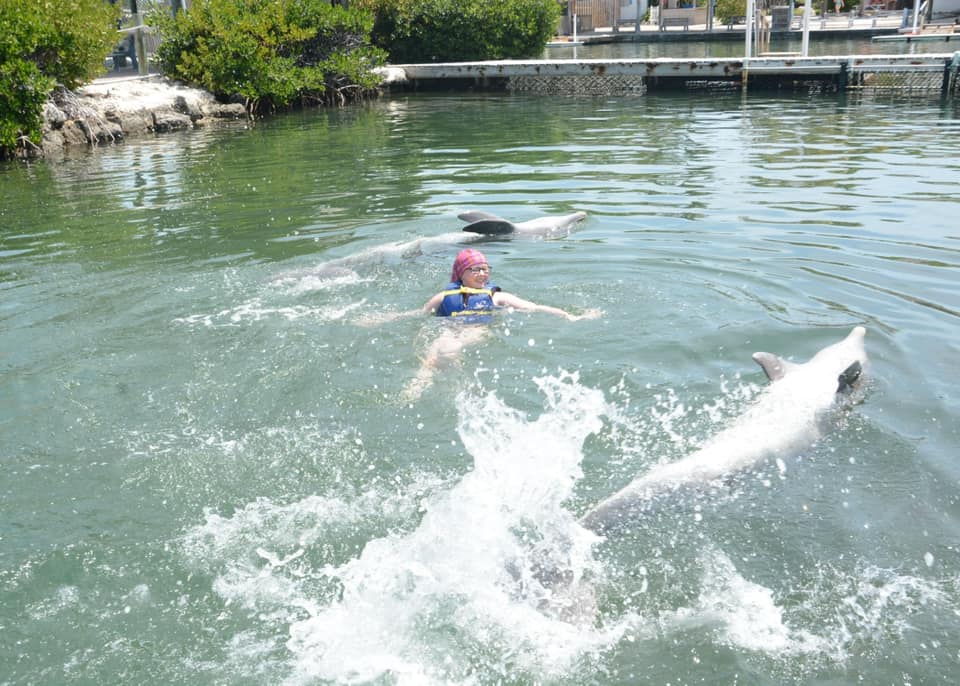 During her stay, Katie also visited the aquarium and had a colorful day at a butterfly garden, where she also got to see hot pink flamingos.
One of the highlights of Katie's trip was the wonderful food she had. While her favorite meal was at Whalburger's, she also enjoyed sipping on virgin piña coladas and strawberry daiquiris. She also tried lobster for the first time, but it wasn't a hit; though she loved all of the other seafood she had while in the Keys.
When asked what receiving this Dream meant to her, Katie said, "Receiving this Dream meant I got to escape my normal life. We don't go on family vacations much, so it was definitely an experience. I want to thank you guys for doing this for me." Her mother said, "We were just overwhelmed and grateful that we were able to do this. This is not something that we would get to do in our normal lives." She added, "The trip was very healing — since the trip she's been feeling really good! It was definitely a turning point where she got to be more mobile than she had been."
We are so happy that we were able to send Katie to the Keys to play with the dolphins and catch some beautiful sunsets. We are able to provide Dreams like Katie's because of contributions from local sponsors and individual donations. We are thankful to all who choose to donate to our mission of ensuring that children with life-threatening illnesses in Greater Hampton Roads and beyond have the opportunity and resources to imagine and experience their most fantastic Dream.