A High Tech Surprise for Kayson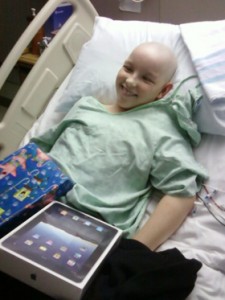 Toby's Dream Foundation (TDF) recently had the honor of fulfilling a dream for an extraordinary young man named Kayson, age 11. This Virginia Beach native had a knack for all things athletic! He had a passion for giving his all on the baseball diamond and a continued enthusiasm for excelling at basketball and soccer with Upwards Sports.
Kayson was referred to TDF back in December as a rush situation. He had a dream of having his own iPad so he could play all the games, experience all the apps, and figure out all  the unique features the iPad has to offer!
Toby's Dream Foundation volunteers were excited to surprise Kayson in the hospital to make his iPad dream come true. With a grin from ear-to-ear, Kayson enthusiastically unwrapped his presents to find his shiny new iPad complete with an iPad cover in orange, his favorite color. The TDF team showered Kayson with more treats like a Blizzard from Dairy Queen and several games, movies, and other things from his favorite movie, Toy Story.
Kayson had a smile that could light up a baseball field and his light continues to shine for all who knew him. This remarkable young man earned his angel wings earlier this year and continues to be an inspiration to all who had the privilege of knowing him. A big TDF thank you for all involved in making Kayson feel like a true star!
For Kayson… Tomorrow begins with a dream…