Kimber, age 9, is a spunky, fun, and happy girl who loves to swim, play video games, and be with her family. When we interviewed Kimber, she knew exactly what she wanted to do — swim with the dolphins! "I was never old enough to swim with the dolphins before!" she said. So now that she was finally at the ripe age of nine and received the go-ahead from her doctors, we got got busy planning her trip!
Since Kimber loves to swim so much, we found her a beautiful rental home with its very own swimming pool so she could swim to her heart's desire. "Kimber and Vada (her little sister) loved having their own private pool to swim in!" her mother said.
Swimming with the dolphins at Discovery Cove was the highlight of Kimber's experience in Florida. "Getting to ride with my dolphin, Aki, and snorkel was so fun!" she said. "We enjoyed every second!" her mother added. "First we swam through the reef and then saw some otters and birds. The best part of all though was watching Kimber light up and get the opportunity to touch, kiss, and hug a dolphin!"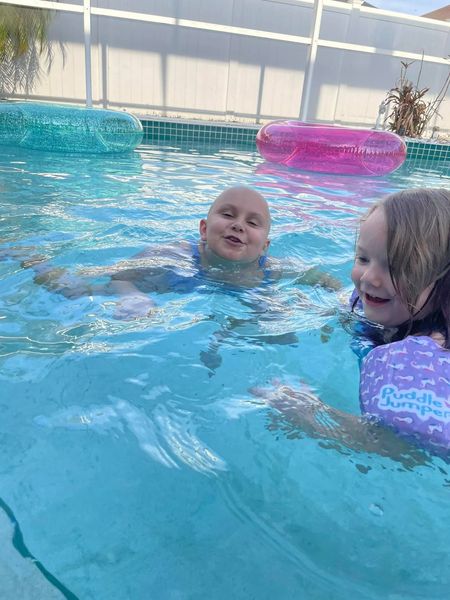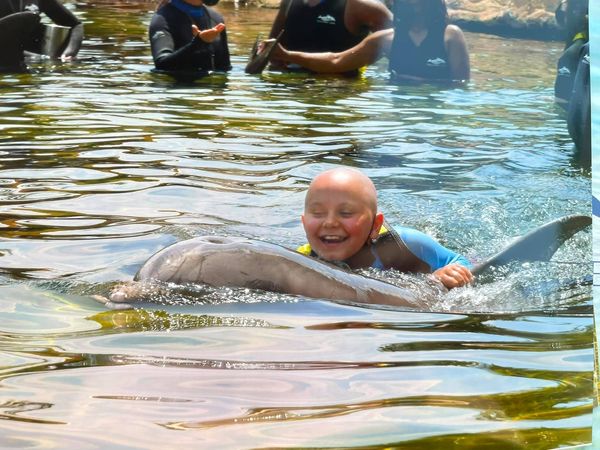 Kimber's mother went on to say, "It meant so much to our family to have the opportunity to have a once in a lifetime experience and make these memories. Kimber's specific type of cancer has no cure, so it is extremely important to our family to create as many positive memories as possible. Literally, every day in Florida was magical and we couldn't have done it without Toby's Dream."
We are happy to hear that Kimber and her family made memories to last a lifetime. We are able to provide these Dreams with contributions from local sponsors and individual donations. We are thankful to all who choose to donate to our mission of ensuring that children with life-threatening illnesses in Greater Hampton Roads and beyond have the opportunity and resources to imagine and experience their most fantastic Dream.