14-year-old Michaeyla is an animal-loving, cheerful spirit whose dream was to go on a cruise to the Bahamas with her family.  Michaeyla came to Toby's Dream Foundation after experiencing a relapse that, unfortunately, led to the loss of her leg.  This, however, did not slow down this courageous, adventure-loving teen.
Upon boarding the Carnival cruise ship, Michaeyla and her family were treated like royalty.  From getting to meet the captain on the bridge of the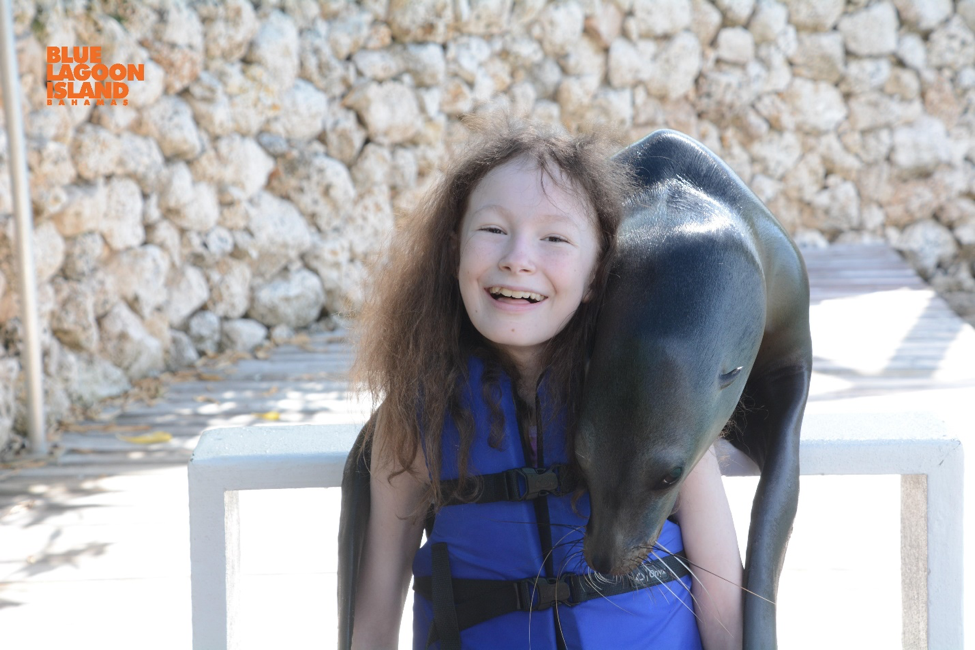 boat and pulling the horn of the ship to a private Build-a-Bear session with her sisters, Michaeyla and her family enjoyed every minute.  However, the highlight of the on-board experience was an exclusive food tasting given by the chef featuring all the menu items.  Michaeyla got to try conch fritters, frog legs, ox tongue, rabbit, lamb, and her favorite: surf & turf!
Meanwhile, their days were spent island-hopping in the Caribbean.  They started at Grand Turk, where they went swimming in the crystal-clear sea.  On Princess Cays, they set off on a glass-bottom boat excursion, where they could see straight through the bottom of the boat to the reef below.  They saw countless fish and even a huge, four-foot-long turtle.  In Nassau, the family had the ultimate experience of swimming with dolphins, stings rays, and sea lions on Blue Lagoon Island.  Michaeyla's dad said that the memories of her interactions with the animals, "will be with her forever."
When asked what this Dream experience meant to her, Michaeyla responded, "I got to have a chance to explore islands, have fun, experience new things and go on a new adventure."  Her dad added, "This was the best vacation we've ever been on as a family.  We made memories that will be with us for the rest of our lives – this was a once in a lifetime experience."
Before wrapping up our interview, Michaeyla added, "I want to say thank you to Toby's Dream and everyone who helped with my dream – it was awesome!"
We at Toby's Dream Foundation are so happy that we could provide Michaeyla with this trip of a lifetime and memories that will last forever with her family.